Phenology of marine species (CLIM 014) - Assessment published Nov 2012
Indicator Assessment
Created 09 Nov 2012
Published 20 Nov 2012
Last modified 20 Nov 2012, 04:00 PM
Generic metadata
Topics
:
Climate change
(Primary topic)
DPSIR
: Impact
Typology
: Descriptive indicator (Type A - What is happening to the environment and to humans?)
Dynamic
Temporal coverage:
1958-2009
Contents
Key policy question:
How is climate change affecting the seasonal cycle of marine organisms in European seas?
Key messages
Temperature increases in the ocean have caused many marine organisms in European seas to appear earlier in their seasonal cycles than in the past. Some plankton species have advanced their seasonal cycle by 4–6 weeks in recent decades.
Projections of the phenological responses of individual species are not available, but phenological changes are expected to continue with projected further climate change.
Changes in the plankton phenology have important consequences for other organisms within an ecosystem and ultimately for the structure of marine food webs at all trophic levels. Potential consequences include increased vulnerability of North Sea cod stocks to over-fishing and changes in seabird populations.
Decapoda larvae abundance and phenology in the central North Sea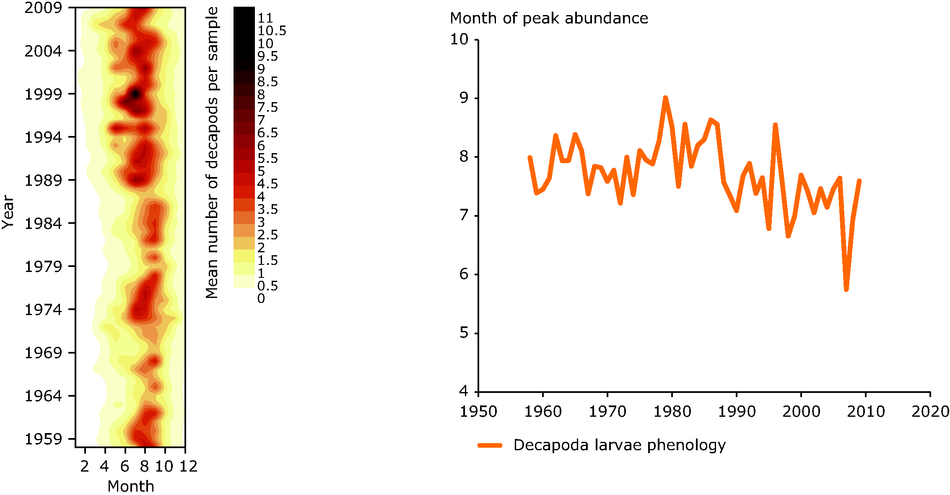 Note: Left: Decapoda larvae abundance (number of individuals) in the central North Sea (1958–2009). Right: Phenology shown as average month of peak decapoda abundancein the central North Sea (1958–2009).
Downloads and more info
Key assessment
Past trends
The zooplankton growing season indicator shows the annual timing of peak seasonal abundance of decapoda larvae from 1958–2009 in the central North Sea (Figure 1, left). A shift towards an earlier seasonal peak is clearly visible, in particular since 1988. Since the 1990s the seasonal development of decapoda larvae has occurred 4–6 weeks earlier than the long-term average (baseline mean 1958–2009). This trend towards an earlier seasonal appearance of decapoda larvae during the 1990s is highly correlated with SSTs (Figure 1, right). Even though decapoda larvae are not routinely identified to species level, a recent study has shown that these phenological shifts are a response at the species level, and not simply different seasonal timings by different species [i].
Projections
Projections of the phenological responses of individual species under climate change have not yet been made, but the empirical evidence suggests that phenological changes will continue as climate warming continues. It is currently uncertain as to whether genetic adaptations within species populations can cope with these changes, at least partly, or whether the pace of climate change is too fast for genetic adaptations to take place. This uncertainty is further compounded by the difference in phenological responses between species and functional groups. If current patterns and rates of phenological change are indicative of future trends, future climate warming may exacerbate trophic mismatching. This could further disrupt the functioning, persistence and resilience of many ecosystems, potentially having a major impact on ecosystem services.
[i] John A. Lindley and Richard R. Kirby, "Climate-induced changes in the North Sea Decapoda over the last 60 years", Climate Research 42, Nr. 3 (September 16, 2010): 257–264.
Data sources
More information about this indicator
See this indicator specification for more details.
Dates
Frequency of updates
Updates are scheduled every 4 years in October-December (Q4)
Permalinks
Permalink to this version

Permalink to latest version
For references, please go to www.eea.europa.eu/soer or scan the QR code.
This briefing is part of the EEA's report The European Environment - State and Outlook 2015. The EEA is an official agency of the EU, tasked with providing information on Europe's environment.
PDF generated on 04 May 2015, 10:46 AM