Heating degree days (CLIM 047) - Assessment published Nov 2012
Indicator Assessment
Created 15 Nov 2012
Published 20 Nov 2012
Last modified 20 Nov 2012, 06:50 PM
Generic metadata
Topics
:
Climate change
(Primary topic)

Energy

Urban environment
Tags:
DPSIR
: Impact
Typology
: Descriptive indicator (Type A - What is happening to the environment and to humans?)
Dynamic
Temporal coverage:
1980-2009
Contents
Key policy question:
How is climate change affecting the energy demand for space heating across Europe?
Key messages
The number of heating degree days (HDD) has decreased by an average of 16 per year since 1980. This helps reduce the demand for heating, particularly in northern and north-western Europe.
Climate change will affect future energy and electricity demand. Climate change is not expected to change total energy demand in Europe substantially across Europe, but there may be significant seasonal effects, with large regional differences.
Trend in heating degree days in the EU-27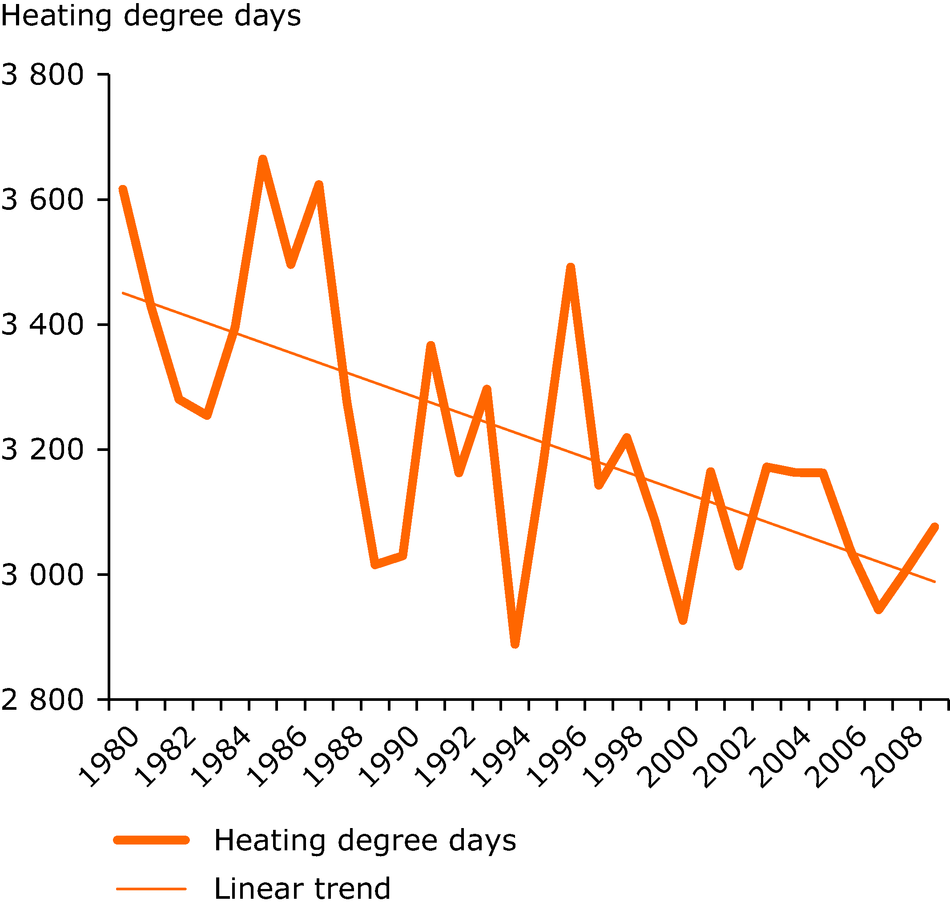 Note: Trend in heating degree days in the EU-27 (1980 - 2009). Eurostat calculates heating degree days as (18 °C - Tmean) if Tmean is lower than 15 °C (heating threshold) and zero if Tmean is greater than or equal 15 °C; Tmean is the mean daily outdoor temperature, calculated as Tmean = (Tmin + Tmax / 2)
Downloads and more info
Trend in heating degree days in the EU-27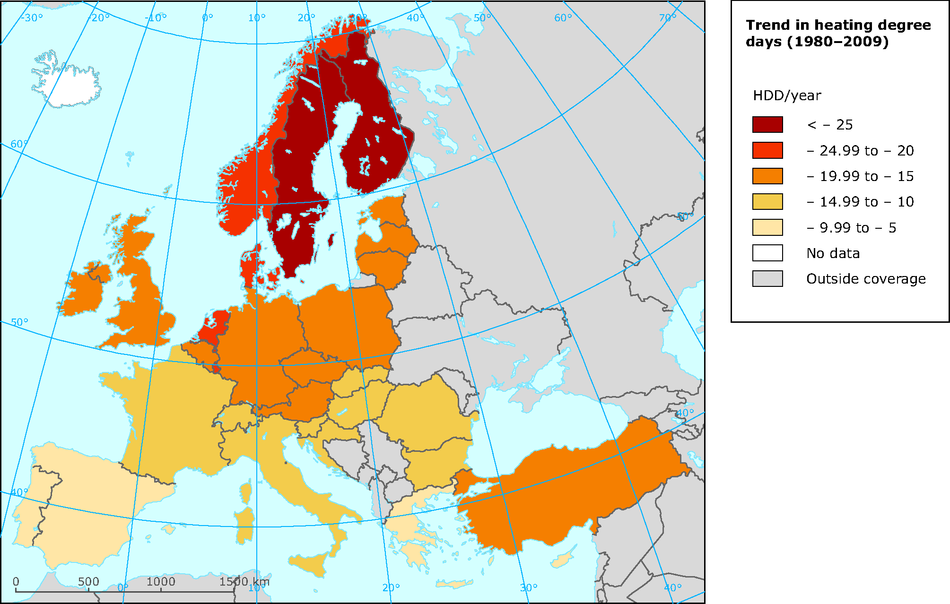 Note: The map shows the trend in heating degree days in the EU-27 (1980-2009)
Downloads and more info
Key assessment
Past trends
The number of heating degree days (HDD) has decreased by 13 % over the last 3 decades, yet with substantial interannual variation (Figure 1). Figure 2 shows that the decrease in HDD has not been homogeneous across Europe. The absolute decrease has been largest in the cool regions in northern Europe where heating demand is highest.
Projections
Temperatures in Europe are projected to continue to increase. Hence, the trend of decreasing numbers of HDD is very likely to continue, and most likely to accelerate. For example, the heat demand for space heating in 2050 was projected to decrease by 25 % in the UK [i], and by 9 % in the EU ([ii]).
---
[i] Martina Flörke et al., Climate Adaptation – modelling water scenarios and sectoral impacts. Final Report Contract N° DG ENV.D.2/SER/2009/0034 (Kassel, Germany: Center for Environmental Systems Research, University of Kassel, Oktober 28, 2011), http://circa.europa.eu/Public/irc/env/wfd/library?l=/framework_directive/climate_adaptation/climwatadapt_report.
[ii] Pre-publication of results from the ClimateCost project (http://www.climatecost.cc)
Data sources
More information about this indicator
See this indicator specification for more details.
Dates
Frequency of updates
Updates are scheduled every 4 years in October-December (Q4)
Permalinks
Permalink to this version

Permalink to latest version
For references, please go to www.eea.europa.eu/soer or scan the QR code.
This briefing is part of the EEA's report The European Environment - State and Outlook 2015. The EEA is an official agency of the EU, tasked with providing information on Europe's environment.
PDF generated on 03 May 2015, 01:50 PM