Habitats of European interest (SEBI 005) - Assessment published May 2010
Indicator Assessment
Created 10 Sep 2009
Published 21 May 2010
Last modified 13 Feb 2015, 03:59 PM
Generic metadata
Topics
:

Biodiversity
(Primary topic)
Tags:
DPSIR
: State
Typology
: N/A
Dynamic
Temporal coverage:
2009
Contents
Key policy question:
What is the conservation status of habitats of Community interest?
Key messages
Conservation status(1) is quite variable across the regions. A relatively large proportion of habitats (35 %) have a favourable status in the Alpine region but the situation is much worse in the Atlantic region where more than 70 % have an unfavourable status.That means their range and quality are in decline or do not meet the specified quality criteria.
There are still significant gaps in knowledge on marine areas, except for the Baltic.
(1) The reporting format uses three classes of conservation status. 'Good' (green) indicates that the species or habitat is at Favourable Conservation Status as defined in the Directive and the habitat or species can be expected to prosper without any change to existing management or policies. Two classes of 'Unfavourable' are also recognised. 'Unfavourable-Bad' (red) signifies that a habitat or species is in serious danger of becoming extinct (at least locally) and 'Unfavourable-Inadequate' (amber) is used for situations where a change in management or policy is required but the danger of extinction is not so high. The unfavourable category has been split into two classes to allow improvements or deterioration to be reported. (Assessment, monitoring and reporting under Article 17 of the Habitats Directive: Explanatory Notes & Guidelines DRAFT 2 January 2006).

Habitats of European interest — conservation status by biogeographical region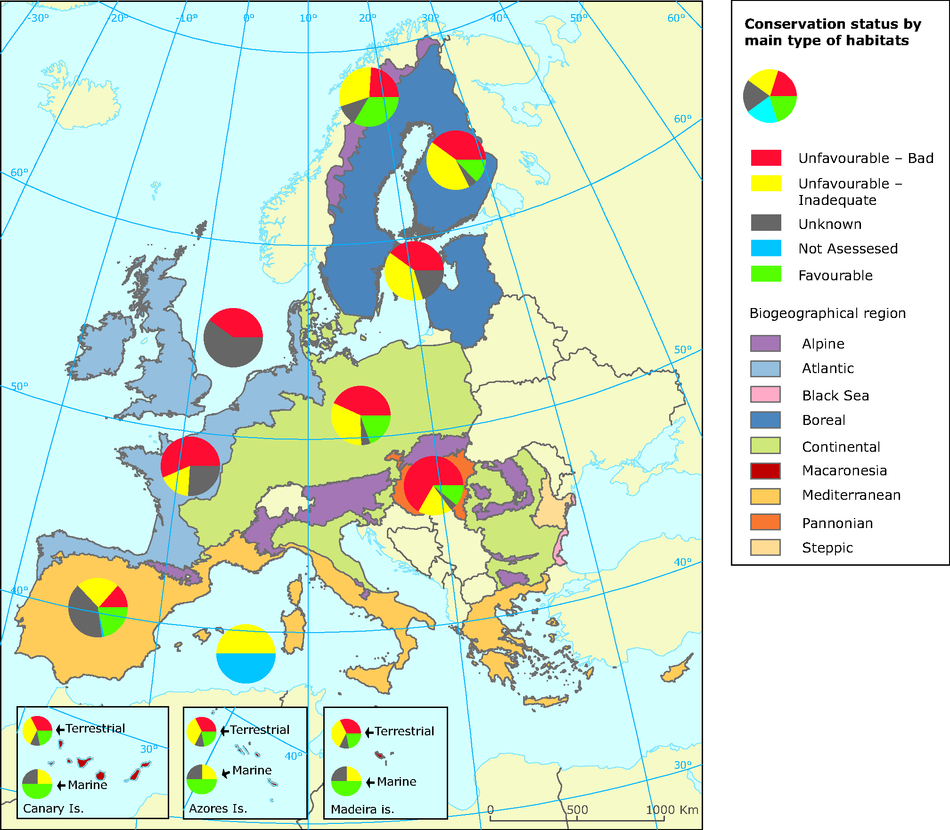 Note: How to read the map: in the Mediterranean biogeographical region, about 21 % of habitats are in favourable conservation status, but 37 % are in unfavourable (bad plus inadequate) status.
Downloads and more info
Key assessment
In several biogeographical regions (Atlantic, boreal, continental and Pannonian), around 70 % of habitats listed in Annex I of the Directive have an unfavourable status. More than 70 % of the bogs, grasslands and dunes are in unfavourable status. Trend information was not available in most cases.
NOTES
The map and graph for this indicator are based on Member State assessments of habitats, which are provided in Annex I of the Directive. The Member States were required to assess each habitat in each biogeographical zone in which it exists in the country. A regional assessment was calculated based on the Member State assessments. For many habitats, recovery to a favourable conservation status will take a considerable time; the next evaluation, due in 2013, will help assess the efficiency of the Directive.
FURTHER INFORMATION
Data sources
More information about this indicator
See this indicator specification for more details.
Contacts and ownership
EEA Contact Info
User not found: bialakat
Ownership
EEA Management Plan
2010 1.2.2
(note: EEA internal system)
Dates
Frequency of updates
Updates are scheduled every 6 years in July-September (Q3)
Permalinks
Permalink to this version

Permalink to latest version
For references, please go to www.eea.europa.eu/soer or scan the QR code.
This briefing is part of the EEA's report The European Environment - State and Outlook 2015. The EEA is an official agency of the EU, tasked with providing information on Europe's environment.
PDF generated on 25 Apr 2015, 11:11 AM