Growing season for agricultural crops
Indicator Assessment
Created 08 Sep 2008
Published 08 Sep 2008
Last modified 04 Sep 2015, 06:59 PM
Note: new version is available!
Indicator codes:
CLIM 030
Key messages
There is evidence that the length of the growing season of several agricultural crops in Europe has changed.
A longer growing season increases crop yields and insect populations and favours the introduction of new species in areas that were not previously suitable for these species.
These observed facts are particularly important for the northern latitudes.
Locally at southern latitudes, the trend is towards a shortening of the growing season, with consequent higher risk of frost damage from delayed spring frosts.

How is the growing seasonal of crops?
Rate of change of crop growing season length 1975-2007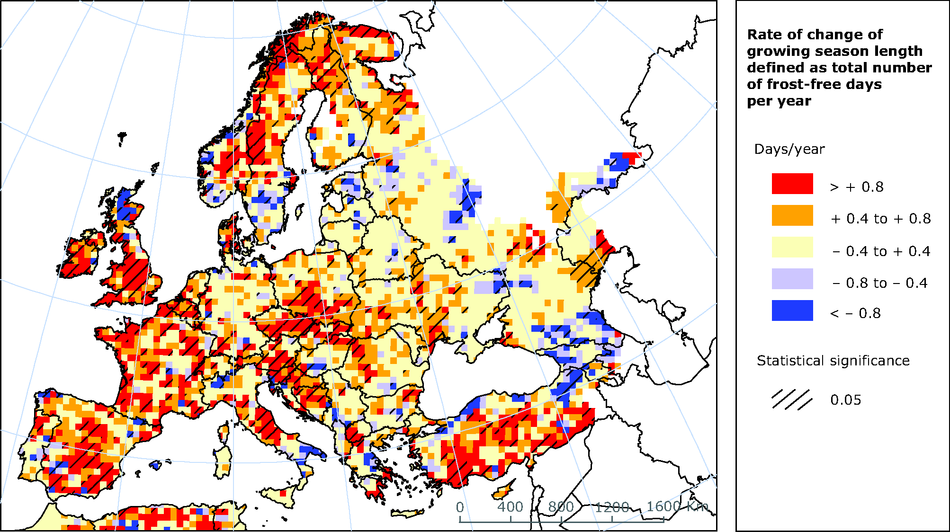 Note: The map shows the rate of change of crop growing season leght
Data source:
MARS/STAT database (Genovese, 2004a, 2004b).
Downloads and more info
Length of frost-free period in selected European areas 1975-2007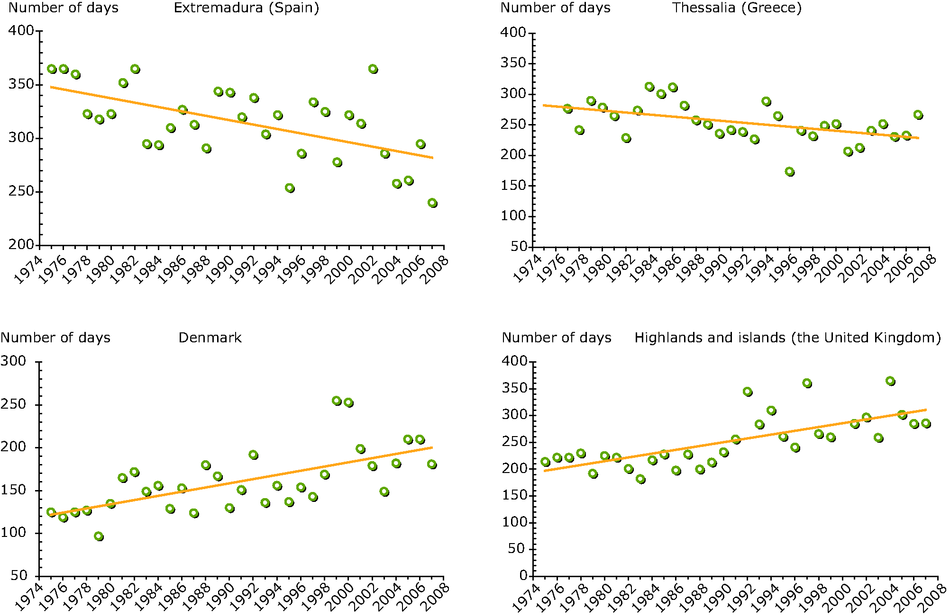 Note: N/A
Data source:
MARS/STAT database (Genovese, 2004a, 2004b).
Downloads and more info
Past trends
Many studies report a lengthening of the period between the occurrence of the last spring frost and the first autumn frost. This has occurred in recent decades in several areas in Europe and more generally in the northern hemisphere (Keeling et al., 1996; Myneni et al., 1997; Magnuson et al., 2000; McCarthy et al., 2001; Menzel and Estrella, 2001; Tucker et al., 2001; Zhou et al., 2001; Walther et al., 2002; Root et al., 2003; Tait and Zheng, 2003; Yan et al., 2002; Robeson, 2002; Way et al., 1997). An analysis of the growing period in Europe between 1975 and 2007 (Figure 1) shows a general and clear increasing trend. The trend is not uniformly spread over Europe. The highest rates of change (about 0.5-0.7 days per year) were recorded in central and southern Spain, central Italy, along the Atlantic shores, and in the British Isles, Denmark and the central part of Europe. The extension of the growing season is either due to a reduction in spring frost events or to a progressive delay in the start of autumn frosts (Figure 2). However, a decline has been observed in the Mediterranean countries, in the Black Sea area and in parts of Russia. In areas where a decrease in the length of frost-free period occurred, in particular in southern Europe, the plants are more at risk from frost damage due to a delay in the last winter-spring frost.
Projections
Following the observed trends (which have accelerated even more in the past decade) and in line with projections for temperature increase, a further lengthening of the growing season (both an earlier onset of spring and a delay of autumn) as well as a northward shift of species is projected. The latter is already widely reported (Aerts et al., 2006). The length of the growing season will be influenced mainly by the increase in temperatures in autumn and spring (Ainsworth and Long, 2005; Norby et al., 2003; Kimball et al., 2002; Jablonski et al., 2002). According to the IPCC analysis, Europe will warm in all seasons for all scenarios, but warming will be greater in western and southern Europe in summer and northern and eastern Europe in winter. More lengthening of the growing season is therefore expected in these northern and eastern areas, while in western and southern Europe the limited water availability and high temperatures stress during summer will hinder plant growth.

Indicator specification and metadata
Policy context and targets
Context description
In April 2009 the European Commission presented a White Paper on the framework for adaptation policies and measures to reduce the European Union's vulnerability to the impacts of climate change. The aim is to increase the resilience to climate change of health, property and the productive functions of land, inter alia by improving the management of water resources and ecosystems. More knowledge is needed on climate impact and vulnerability but a considerable amount of information and research already exists which can be shared better through a proposed Clearing House Mechanism. The White Paper stresses the need to mainstream adaptation into existing and new EU policies. A number of Member States have already taken action and several have prepared national adaptation plans. The EU is also developing actions to enhance and finance adaptation in developing countries as part of a new post-2012 global climate agreement expected in Copenhagen (Dec. 2009). For more information see: http://ec.europa.eu/environment/climat/adaptation/index_en.htm
Targets
No targets have been specified
Related policy documents
No related policy documents have been specified
Data sources
Generic metadata
Topics
:
Climate change
(Primary topic)
Tags:
DPSIR
: Impact
Typology
: Descriptive indicator (Type A - What is happening to the environment and to humans?)
Dynamic
Temporal coverage:
1975-2007
Contacts and ownership
Ownership
EEA Management Plan
2008 2.3.1
(note: EEA internal system)
Permalinks
Permalink to this version

Permalink to latest version
For references, please go to www.eea.europa.eu/soer or scan the QR code.
This briefing is part of the EEA's report The European Environment - State and Outlook 2015. The EEA is an official agency of the EU, tasked with providing information on Europe's environment.
PDF generated on 10 Feb 2016, 02:34 PM