Forest growth
Indicator Assessment
Created 08 Sep 2008
Published 08 Sep 2008
Last modified 04 Sep 2015, 06:59 PM
Note: new version is available!
Indicator codes:
CLIM 034
Key messages
In much of continental Europe, the majority of forests are now growing faster than in the early 20th century.
A changing climate will favour certain species in some forest locations, while making conditions worse for others, leading to substantial shifts in vegetation distribution.
The distribution and phenology of other plant and animal species (both pests and pollinators) are likely to change, leading to further alterations in competitive dynamics in forests that will be difficult to predict.
Periods of drought and warm winters are increasing pest populations and further weakening forests.
Current (2000) and projected (2100) forest coverage in Europe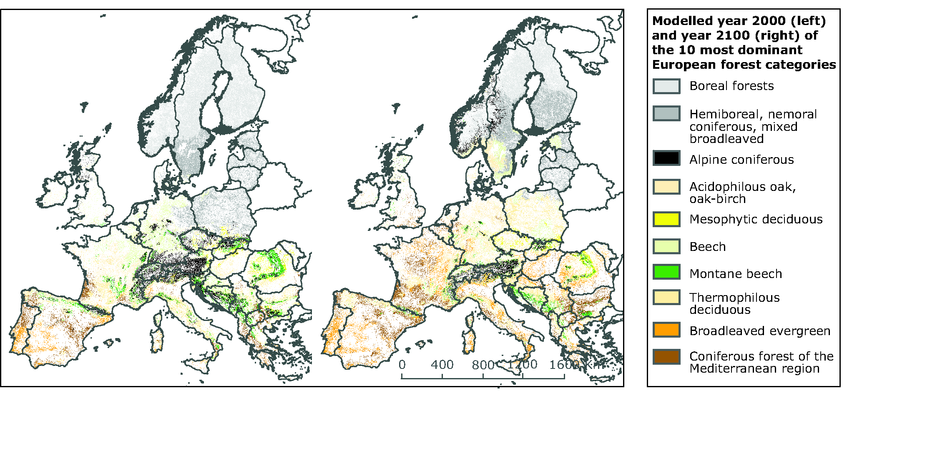 Note: Modelled to evaluate the change of habitat suitability coverage of the ten most dominant European Forest Categories (EEA, 2006), used IPCC SRES A1B scenario and NCAR CCM3 model.
Data source:
Casalegno, S.; Amatulli, G.; Bastrup-Birk, A.; Houston, T., 2007. Modelling Current and Future Distribution of European Forest Categories. Proceedings of the 6th European Conference on Ecological Modelling: Challenges for ecological modelling in a changing world: Global Changes, Sustainability and Ecosystem Based Management. 2730 November 2007. Trieste, Italy.
Downloads and more info
Past trends
For many centuries, most European forests were overexploited. Growth rates were reduced and biomass stocks were depleted until the middle of the 20th century, when growth rates started to recover (Spieker et al., 1996). Much of this increase can be attributed to advances in forest management practices, genetic improvement and, in central Europe, the cessation of site-degrading practices such as litter collection for fuel. It is also very likely that increasing temperatures and CO2 concentrations, nitrogen deposition, and reduction of air pollution (SO2) have had a positive effect on forest growth. Trees have long been known to respond to changes in climate: variations in tree-ring widths from one year to the next are recognised as an important source of climatic information.
Several studies have already noted changes in dates of budburst and therefore longer growing seasons in several species, shifts in tree-line, and changes in species distribution. A north-east shift of forest categories has already been observed for European forest species (Bakkenes et al., 2002; Harrison et al., 2006).
Projections
Tree growth is controlled by complex interactions between climate- and non-climate-related factors, with forest management also having a significant effect. Possible future responses of forests to climate change include increased growth rates, tree-line movements, changes to forest growth, phenology, species composition, increased fire incidence, more severe droughts in some areas, increased storm damage, and increased insect and pathogen damage (Eastaugh, 2008). Taken together this is likely to lead to a changed pattern of forest cover. Simulation of the IPCC SRES A1B scenario for the period 2070-2100 shows a general trend of a south-west to north-east shift in suitable forest category habitat (Casalegno et al., 2007).
Although climate change is projected to have an overall positive effect on growing stocks in northern Europe, negative effects are also projected in some regions (e.g. drought and fire pose an increasing risk to Mediterranean forests), making overall projections difficult.

Indicator specification and metadata
Policy context and targets
Context description
No context has been specified
Targets
No targets have been specified
Related policy documents
No related policy documents have been specified
Data sources
Generic metadata
Topics
:
Climate change
(Primary topic)
Tags:
DPSIR
: Impact
Typology
: Descriptive indicator (Type A - What is happening to the environment and to humans?)
Dynamic
Temporal coverage:
2000
Contacts and ownership
EEA Management Plan
2008 2.3.1
(note: EEA internal system)
Permalinks
Permalink to this version

Permalink to latest version
For references, please go to www.eea.europa.eu/soer or scan the QR code.
This briefing is part of the EEA's report The European Environment - State and Outlook 2015. The EEA is an official agency of the EU, tasked with providing information on Europe's environment.
PDF generated on 03 May 2016, 03:42 AM