Forest: deadwood (SEBI 018) - Assessment published May 2010
Indicator Assessment
Created 17 Sep 2009
Published 21 May 2010
Last modified 08 Jul 2014, 04:54 PM
Note: new version is available!
Generic metadata
Topics
:

Biodiversity
(Primary topic)
Tags:
DPSIR
: State
Typology
: N/A
Dynamic
Temporal coverage:
1990-2005
Contents
Key policy question:
How much deadwood is present in European forests?
Key messages
The quantity of deadwood in Europe's forests, which is an important indicator for forest biodiversity, has strongly decreased since the middle of the nineteenth century due to intense forest exploitation and widespread burning of small wood and other debris. Since 1990, however, an overall increase in this indicator by about 4.3 % has been observed and this may be due to increased compliance with sustainable forest management principles. These principles should be considered in view of increasing wood demand, e.g. for renewable energy production.
Deadwood per hectare in forests, 2005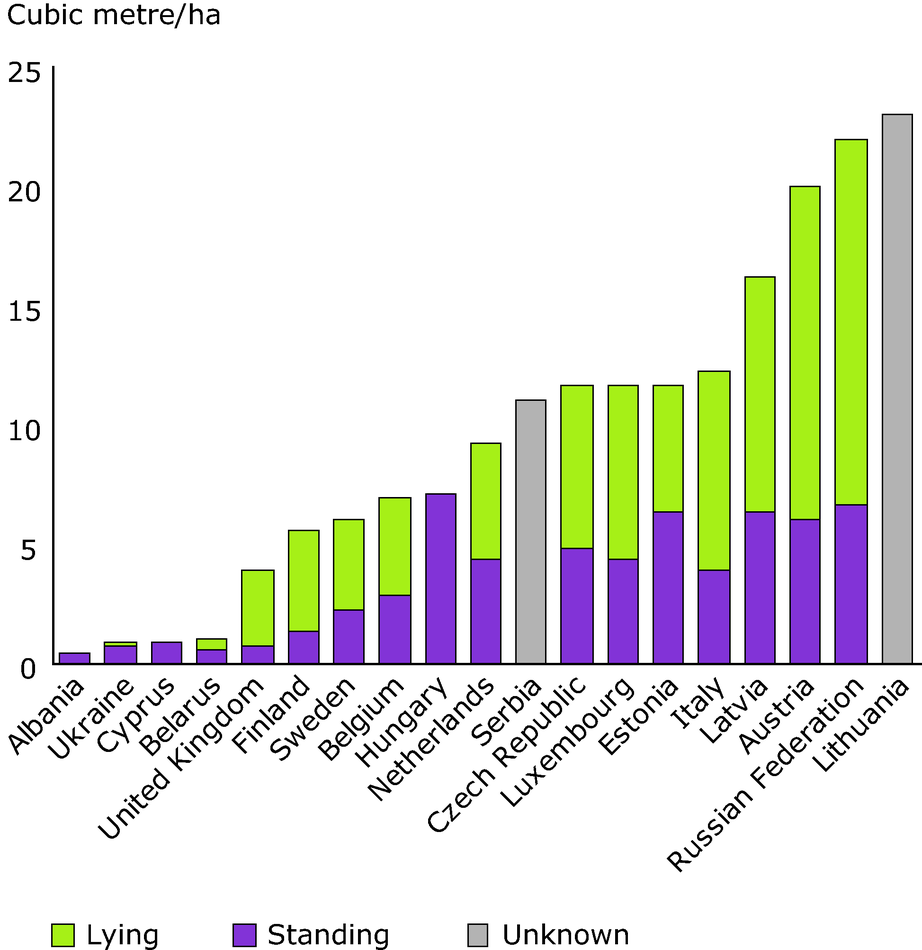 Note: How to read the graph: in 2005, Estonian forests averaged 6 m3/ha of standing deadwood and 5 m3/ha of lying deadwood.
Data source:
MCPFE, 2007.
Downloads and more info
Deadwood in Pan-European forests, 1990-2005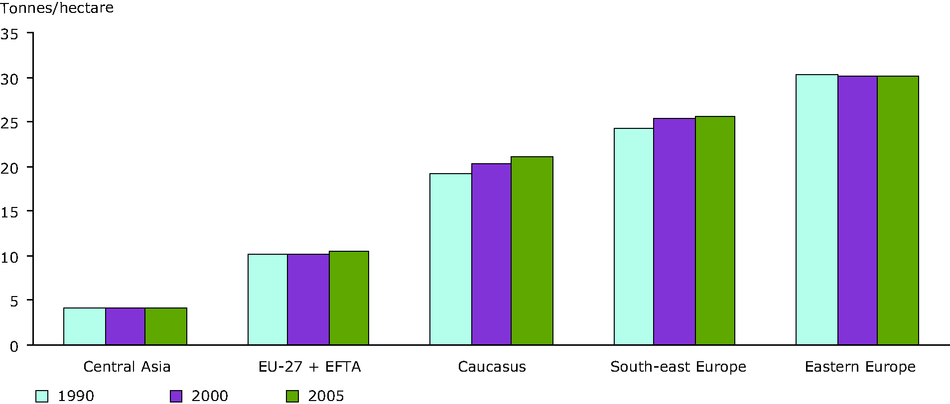 Note: In the period 1990-2005, an overall increase in dead wood by about 4.3 % was observed in the pan-European region (EEA, 2009), a sign of more biodiversity-friendly management.
Data source:
FAO, 2005. Global Forest Resources Assessment 2005 Country tables Biomass stock in forest and other wooded land. www.fao.org/forestry/32100/en/ [Accessed 27 April 2009].
SEBI indicators, 2010 - SEBI indicator 18.
Downloads and more info
Key assessment
Deadwood (coarse woody debris) is a proxy indicator for invertebrate biodiversity, since it is a habitat for a wide array of organisms. Deadwood decomposition plays a key role in the recycling of nutrients and organic matter as well as the creation of a wide variety of micro sites for regeneration of plant species and the creation of a wide variety of habitats for other organisms. The amount of deadwood is an excellent indicator of the conservation value of a forest.
Quantities of deadwood in Europe have strongly decreased between the middle of the nineteenth century and latter part of the twentieth century due to intense forest exploitation and widespread burning of small wood and other debris. Moreover, classical forest management is usually based on rotations shorter than the natural longevity of tree species. The number of large old trees, which are more likely to be a source of dead wood in the forest, is therefore relatively low. Nowadays, however, many European countries have launched initiatives to increase the amount of deadwood, though not all increases are the esult of biodiversity considerations. Available evidence suggests that the amount of deadwood increased in the pan-European region by about 4.3 % in the period 1990 - 2005. The deadwood stock in forests might decline again, however, as wood demand increases for such things as renewable energy production. Overall, deadwood in most European countries remains well below optimal levels from a biodiversity perspective.
The amount of deadwood that will naturally accumulate in forests varies greatly depending on boreal forest) up to 216 m3/ha (mixed mountain forest in central Europe) (Hahn and Christensen, 2004). In a study of boreal forests in Fennoscandia, deadwood volumes ranged from 19 m3/ha up to 145 m3/ha with values at the lower end of the range at higher latitudes near the timberline (Siitonen, 2001). In managed forests deadwood volumes can range from 2 m3/ha to 10 m3/ha (Siitonen, 2001).
In some areas the accumulation of deadwood may not be desirable, for example where the risk of insect pests (such as invasions of bark beetles) or forest fires is considered unacceptable. This occurs in Mediterranean coniferous plantations where deadwood must be removed to avoid fires.
REFERENCES
MCPFE, 2007. State of Europe's Forests 2007. Jointly prepared by the Ministerial Conference on the Protection of Forests in Europe Liaison Unit Warsaw, UNECE and FAO. Available at: http://www.mcpfe.org/files/u1/publications/pdf/state_of_europes_forests_2007.pdf [Accessed 23 June 2008]
Hahn, K. and Christensen, M., 2004. 'Dead wood in European forest reserves - a reference for forest management'. EFI Proceedings 51: 181-191.
Siitonen, J., 2001. 'Forest management, coarse woody debris and saproxylic organisms: Fennoscandian boreal forests as an example'. Ecological Bulletins 49: 11-41.
FURTHER INFORMATION
MCPFE: www.mcpfe.org.
European Forest Insititute: www.efi.int.
Data sources
More information about this indicator
See this indicator specification for more details.
Contacts and ownership
EEA Contact Info
Katarzyna Biala
Ownership
EEA Management Plan
2010
(note: EEA internal system)
Dates
Permalinks
Permalink to this version

Permalink to latest version
For references, please go to www.eea.europa.eu/soer or scan the QR code.
This briefing is part of the EEA's report The European Environment - State and Outlook 2015. The EEA is an official agency of the EU, tasked with providing information on Europe's environment.
PDF generated on 04 May 2015, 07:33 AM