Final energy consumption by sector (CSI 027/ENER 016) - Assessment published Sep 2005
Indicator Assessment
Created 19 May 2005
Published 27 Sep 2005
Last modified 07 Jul 2011, 02:45 PM
Note: new version is available!
Generic metadata
Topics
:

Energy
(Primary topic)
Tags:
DPSIR
: Driving force
Typology
: Descriptive indicator (Type A - What is happening to the environment and to humans?)
Contents
Key policy question:
Is the final energy consumption decreasing in Europe?
Key messages
Final energy consumption in the EU-25 increased by about 8% over the period 1990 to 2002. Transport has been the fastest-growing sector since 1990 and is now the largest consumer of final energy.
Final energy consumption by sector, EU-25
Note: (1990 - 2002)
Downloads and more info
Final energy consumption by country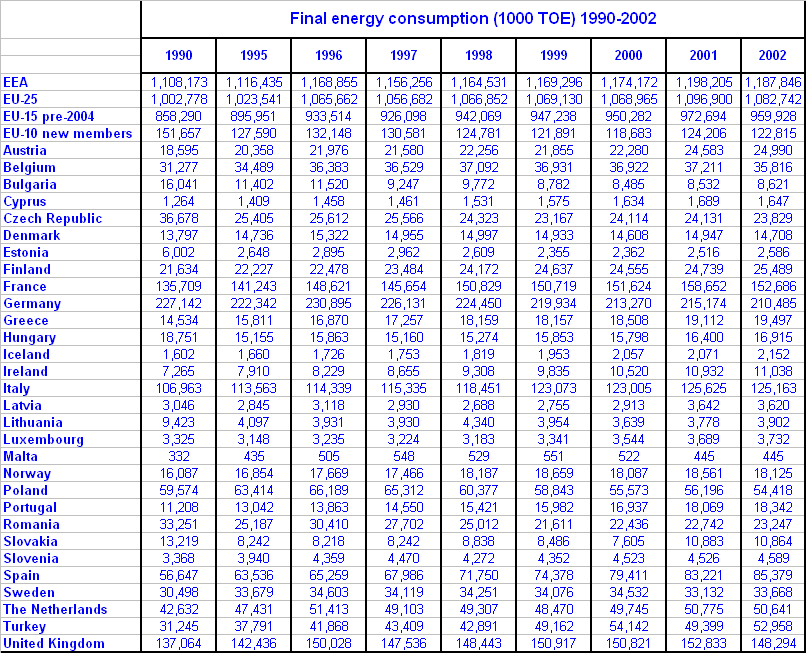 Note: TOE refers to tonnes of oil equivalent
Downloads and more info
Key assessment
Final energy consumption in the EU-25 increased by about 8% between 1990 and 2002, thus partly counteracting the reductions in the environmental impact of energy production achieved as a result of fuel-mix changes and technological improvements. Between 2001 and 2002, final energy consumption decreased by 1.4 percentage points, driven mainly by reductions in the household sector as a result of lower space heating requirements due to higher than average temperatures during 2002.
The structure of final energy consumption has undergone significant changes in recent years. Transport was the fastest-growing sector in the EU-25 between 1990 and 2002, with final energy consumption increasing by 24.3%. Final energy consumption by services (including agriculture) and households grew by 10.2 % and 6.5 % respectively while final energy consumption in the industry sector fell by 7.7 % over the same period. These developments meant that by 2002, transport was the largest consumer of final energy, followed by industry, households and services.
Changes in the structure of final energy consumption were stimulated by the rapid growth of a wide range of service sectors and a shift to less energy-intensive manufacturing industries. The development of the internal market has resulted in increased freight transport as companies exploit the competitive advantages of different regions. Rising personal incomes have permitted higher standards of living, with resultant increases in the ownership of private cars and domestic appliances. Higher comfort levels, reflected in increased demand for space heating and cooling, have also contributed to higher final energy consumption.
There are significant differences in the pattern of final energy consumption between the pre-2004 EU-15 Member States and the new Member States. The new Member States have seen falling final energy consumption mainly as a result of economic restructuring following the political changes of the early 1990s. However, with the economic recovery in these countries, final energy consumption since 2000 has increased slightly.
Data sources
More information about this indicator
See this indicator specification for more details.
Contacts and ownership
EEA Contact Info
User not found: pastocin
Ownership
EEA Management Plan
2010
(note: EEA internal system)
Dates
Permalinks
Permalink to this version

Permalink to latest version
For references, please go to www.eea.europa.eu/soer or scan the QR code.
This briefing is part of the EEA's report The European Environment - State and Outlook 2015. The EEA is an official agency of the EU, tasked with providing information on Europe's environment.
PDF generated on 26 Apr 2015, 02:13 PM