Fertilizer consumption - outlook from EEA (Outlook 023) - Assessment published Jun 2007
Indicator Assessment
—
expired
Created 08 Jan 2007
Published 08 Jun 2007
Last modified 12 Nov 2013, 09:05 AM
This content has been archived on
12 Nov 2013
, reason:
Content not regularly updated
Generic metadata
Topics
:

Environmental scenarios
(Primary topic)

Agriculture
Tags:
DPSIR
: Pressure
Typology
: Performance indicator (Type B - Does it matter?)
Contents
Key policy question:
Are we using fertilizers in a more sustainable way?
Key messages
Mineral fertilizer use is expected to increase considerably in the new Member States, but remains lower than in the EU-15 in absolute terms; this may lead to increases in associated environmental pressures. Best practices for fertilizer handling could significantly reduce the environmental pressures.
Projections of fertilizer consumption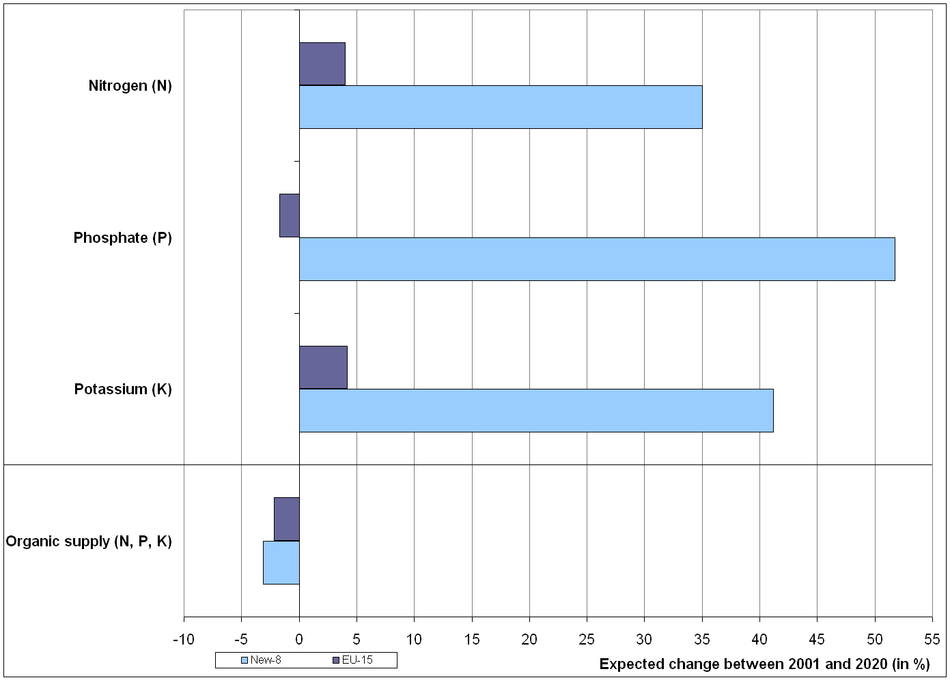 Note: N/A
Data source:
European environment outlook, EEA Report No 4/2005
Downloads and more info
Key assessment
Baseline scenario
The following developments are expected for use of fertilizers:
Considerable increases are projected for mineral fertilizer consumption in the New-8 over the next 20 years. The use of nitrogen (N) mineral fertilizers, which represents abut 60% of total mineral fertilizer use in 2020, is expected to increase by about 35% over this period, while phosphate (P) and potassium (K) use increases by about 52% and 41% respectively.

This contrasts sharply with the EU-15 situation where the use of mineral fertilizers is expected to stay fairly stable to 2020.
This mainly reflects the differences between the EU-15 and the New-8 in terms of increases in application rates and yields.
The use of mineral fertilizers per ha is also expected to increase significantly by 2020 (38%, 55% and 44% for N, P and K respectively).
However, despite yield increases, it remains significantly lower in the New-8 than in the EU-15 in 2020 (13% for N at 64.5 kg/ha, 10% for P at 20.5 kg/ha and 23% for K at 21 kg/ha). In contrast, the use of organic supply on crops is expected to decrease slightly over the period; in 2020, it represents about 36% and 27% of total fertilizer use in the EU-15 and New-8 respectively.
Data sources
More information about this indicator
See this indicator specification for more details.
Contacts and ownership
EEA Contact Info
User not found: velkavrh
Ownership
EEA Management Plan
2010
(note: EEA internal system)
Dates
Permalinks
Permalink to this version

Permalink to latest version
For references, please go to www.eea.europa.eu/soer or scan the QR code.
This briefing is part of the EEA's report The European Environment - State and Outlook 2015. The EEA is an official agency of the EU, tasked with providing information on Europe's environment.
PDF generated on 26 Apr 2015, 09:58 PM