Emissions of primary particles and secondary particulate matter precursors (CSI 003) - Assessment published Oct 2005
Indicator Assessment
Created 19 May 2005
Published 21 Oct 2005
Last modified 07 Jul 2011, 02:43 PM
Note: new version is available!
Generic metadata
Topics
:

Air pollution
(Primary topic)

Environment and health
Tags:
DPSIR
: Pressure
Typology
: Performance indicator (Type B - Does it matter?)
Contents
Key policy question:
What progress is being made in reducing emissions of primary particulate matter (PM10) and secondary particulate matter precursors?
Key messages
Total EU-15 emissions of fine particles were reduced by 39% between 1990 and 2002. This was due mainly to reduction in emissions of the secondary particulate precursors, but also to reductions in primary PM10 emissions from energy industries.
Emissions of primary and secondary fine particles (EU-15), 1990-2002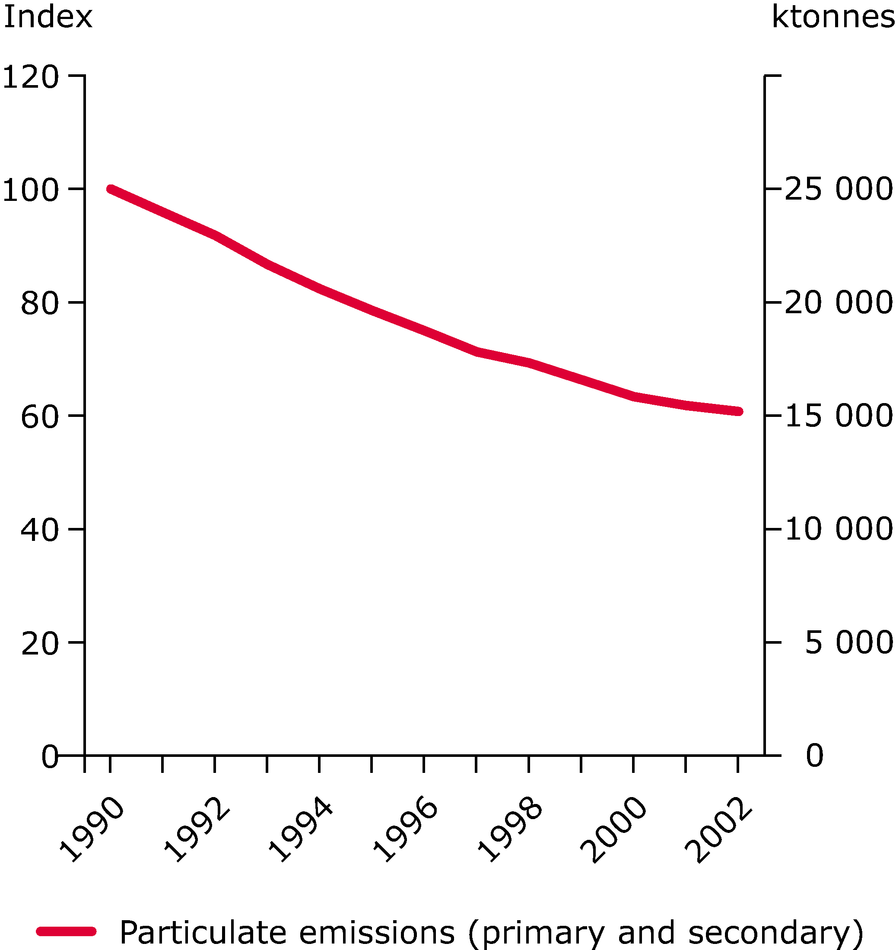 Note: N/A
Downloads and more info
Changes in emissions of primary and secondary fine particles (EFTA-3 and EU-15), 1990-2002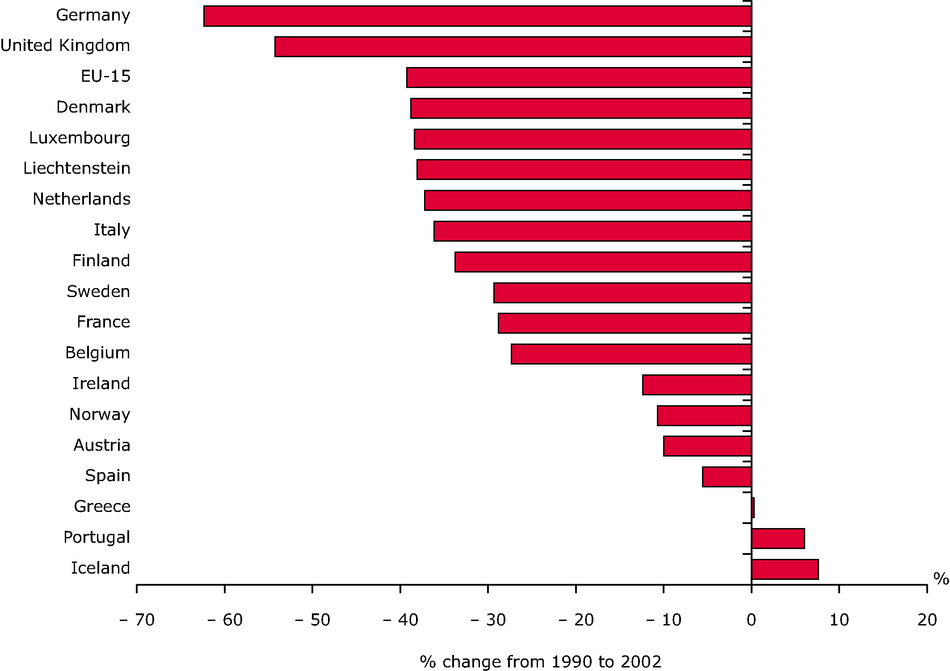 Note: N/A
Downloads and more info
Key assessment
EU emissions of fine particles were reduced by 39% between 1990 and 2002. Emissions of NOx (55%) and SO2 (20%) were the most important contributing pollutants to particulate formation in the EU-15 in 2002. The reductions in total emissions between 1990 to 2002 were due mainly to the introduction or improvement of abatement measures in the energy, road transport, and industry sectors. These three sectors contributed 46%, 22% and 16% respectively to the total reduction.
Specific policy question: How do different sectors and processes contribute to emissions of PM10 and their precursors?
Sector split for primary and secondary fine particulate emissions (EU-15), 2002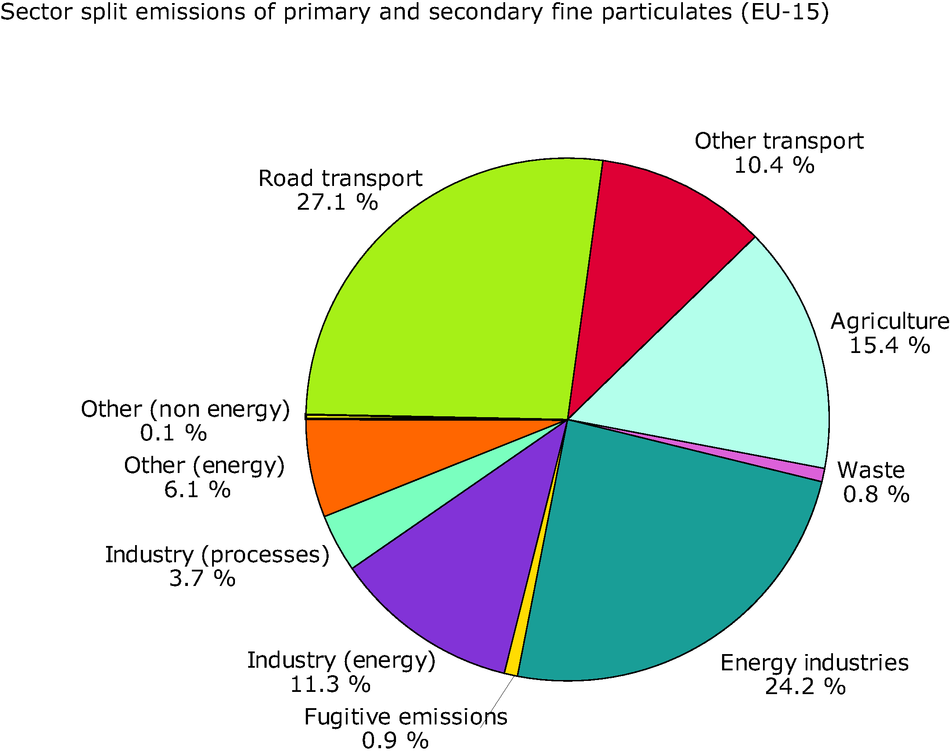 Note: N/A
Downloads and more info
Contributions to the changes in emission of primary and secondary fine particles (PM10), per sector and per pollutant (EU-15), 2002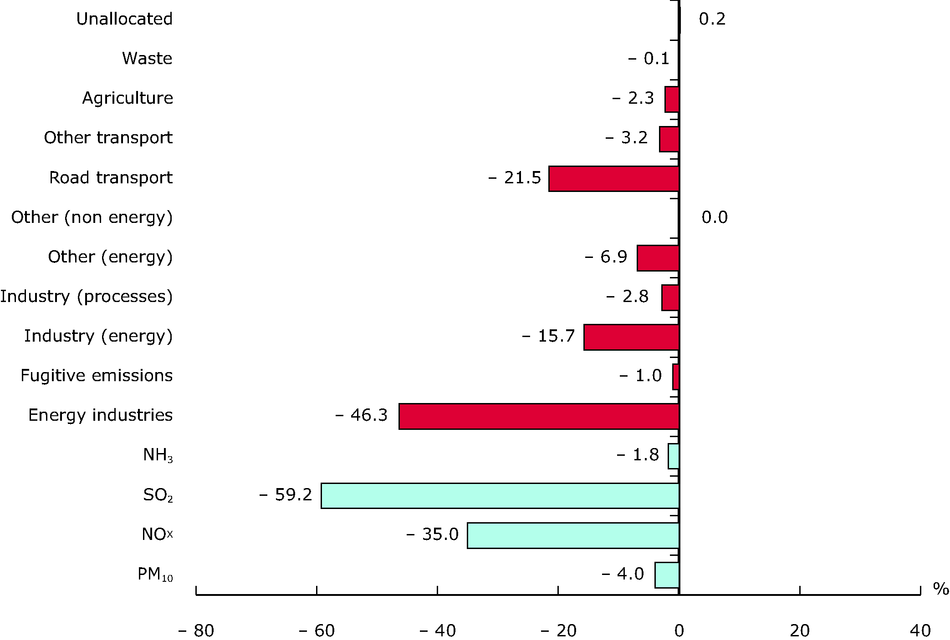 Note: 'Contribution to change' plots show the contribution to the total emission change between 1990-2002 made by a specified sector/ pollutant.
Downloads and more info
Specific assessment
The most important sources of PM10 emissions in 2002 were road transport (28% of total emissions) followed by the energy industry (24%) sectors.
As described in the main assessment, emission reductions between 1990 to 2002 were mainly due to abatement measures in energy industries, road transport, and energy use by industry. Overall, the reduction in emissions of energy-related particulate pollutants was mainly achieved through a combination of the use of fuels with lower sulphur content, fuel switching from coal and oil to natural gas, the deployment of emission abatement technologies in the energy supply and industry sectors, and an increased market penetration of road vehicles with catalytic converters.
Emissions of primary PM10, and secondary PM10 precursors are expected to decrease in the future as vehicle technologies are further improved and stationary fuel combustion emissions are controlled through abatement or use of low sulphur fuels such as natural gas. Despite this it is expected that in the near future in the majority of the urban areas over the EU-15 territory PM10 concentrations will still be well above the limit values for PM10, mainly as a result of the continued growth of road transport. Substantial further reductions in emissions will therefore be needed to reach the air quality limit values set in the EU First Daughter Directive to the Framework Directive on Ambient Air Quality.
Data sources
More information about this indicator
See this indicator specification for more details.
Contacts and ownership
EEA Contact Info
Martin Adams
Ownership
EEA Management Plan
2010
(note: EEA internal system)
Dates
Permalinks
Permalink to this version

Permalink to latest version
For references, please go to www.eea.europa.eu/soer or scan the QR code.
This briefing is part of the EEA's report The European Environment - State and Outlook 2015. The EEA is an official agency of the EU, tasked with providing information on Europe's environment.
PDF generated on 04 May 2015, 08:41 AM