Ecological footprint of European countries (SEBI 023) - Assessment published May 2010
Indicator Assessment
—
expired
Created 17 Sep 2009
Published 21 May 2010
Last modified 31 Mar 2015, 04:23 PM
Note: new version is available!
This content has been archived on
31 Mar 2015
, reason:
Other (New version data-and-maps/indicators/ecological-footprint-of-european-countries/ecological-footprint-of-european-countries-2 was published)
Generic metadata
Topics
:

Biodiversity
(Primary topic)
Tags:
DPSIR
: Pressure
Typology
: Descriptive indicator (Type A - What is happening to the environment and to humans?)
Dynamic
Temporal coverage:
1961-2005
Contents
Key policy question:
Are Europeans using more than their share of the world's resources?
Key messages
The Ecological Footprint for pan-Europe(1) has been increasing almost constantly since 1961, while Europe's biocapacity(2) has decreased. This results in an ever larger deficit, with negative consequences for the environment within and outside Europe.

(1) For this analysis, data from all European countries were used, except for nations that were excluded because of insufficient population (Cyprus, Iceland, Liechtenstein, Luxembourg and Malta) and nations for which data are lacking (Andorra, Monaco, San Marino).
(2) The capacity of ecosystems to produce useful biological materials and to absorb waste materials generated by humans, using current management schemes and extraction technologies.


European Ecological Footprint and biocapacity, 1961-2005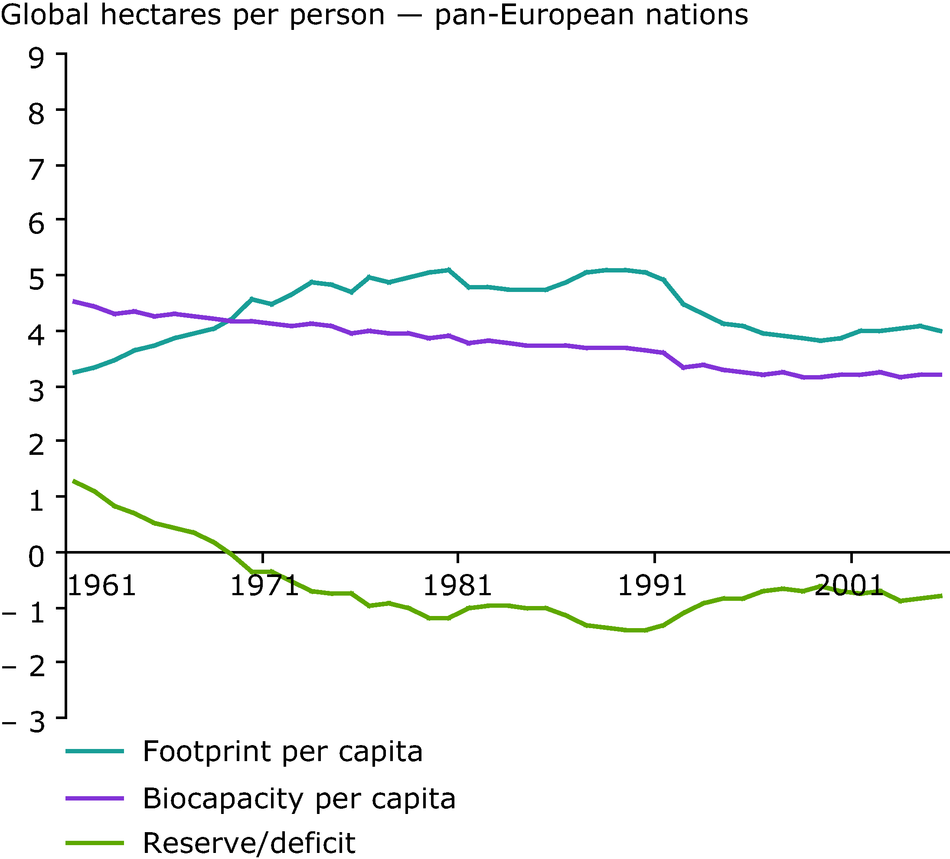 Note: How to read the graph: from 1961 to 2003, Europe´s Ecological Footprint increased from 3 to 4 ha/person.
Data source:
Global Footprint Network, National Footprint Accounts 2008 Edition.
Downloads and more info
Ecological Footprint variation per region (2005)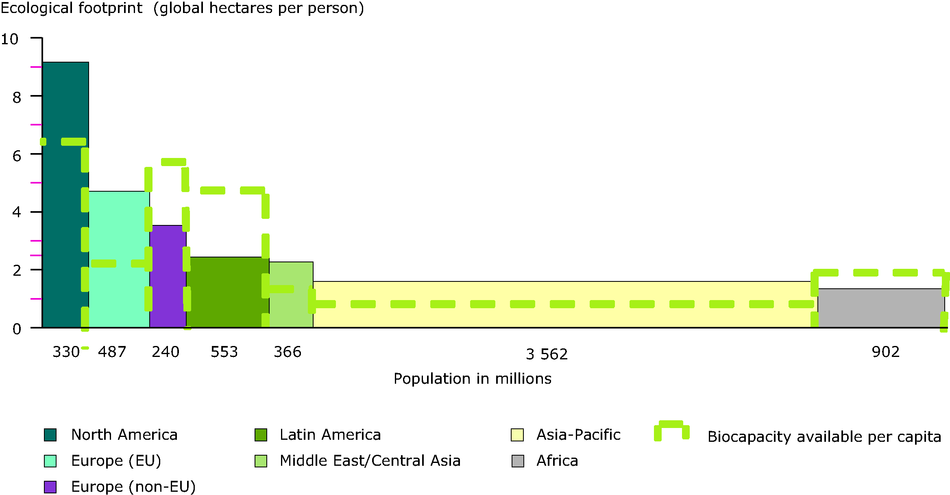 Note: How to read the graph: the EU has 487 million citizens, and a biocapacity of two global hectares per person
Data source:
Global Footprint Network, National Footprint Accounts 2008.
Downloads and more info
Key assessment
Europe's ecological deficit is considerable. Overall iological resource use and waste emission is well above the biological capacity available within Europe, showing that the continent cannot sustainably meet its consumption demands from within its own borders.
The EU-27 on its own has a Footprint of 4.7 global hectares per person, twice the size of its biocapacity. For pan Europe - as shown in Figure 1 - the deficit per person is significantly smaller. While the Footprint does not measure biodiversity, it correlates with the main biodiversity threats.
A regional or national ecological deficit means that the region is either importing biocapacity through trade or liquidating regional ecological assets. Evidently, a global ecological deficit cannot be compensated through trade and therefore corresponds to liquidation of natural capital.
In a world that is already in ecological overshoot, Europe's ecological deficit contributes to the diminishing amount of renewable natural resources available in the future, adds to overall waste accumulation and puts regional and global ecosystems at greater risk of degradation. Further work should examine in more detail the linkages between the Ecological Footprint and biodiversity.
Figure 2 shows that Europe is not the only region where the Ecological Footprint (shown as per person Footprint times population size) exceeds the biocapacity (per person biocapacity shown as green dotted line). Europe beyond the EU actually has a biocapacity that is slightly larger than its Footprint.North America, the EU-25 and the remaining European nations have a per person Footprint that is significantly larger than that in any other continent.
FURTHER INFORMATION
Data sources
More information about this indicator
See this indicator specification for more details.
Dates
Frequency of updates
Updates are scheduled every 2 years in October-December (Q4)
Permalinks
Permalink to this version

Permalink to latest version
For references, please go to www.eea.europa.eu/soer or scan the QR code.
This briefing is part of the EEA's report The European Environment - State and Outlook 2015. The EEA is an official agency of the EU, tasked with providing information on Europe's environment.
PDF generated on 03 May 2015, 11:26 PM