Critical load exceedance for nitrogen (SEBI 009) - Assessment published May 2010
Indicator Assessment
Created 17 Sep 2009
Published 21 May 2010
Last modified 16 Feb 2015, 04:47 PM
Generic metadata
Topics
:

Biodiversity
(Primary topic)
Tags:
ozone | csi | biodiversity | acidification | air
DPSIR
: Pressure
Typology
: Performance indicator (Type B - Does it matter?)
Dynamic
Temporal coverage:
2004
Contents
Key policy question:
What are the trends in nitrogen emissions and where in Europe does atmospheric nitrogen deposition threaten biodiversity?
Key messages
Nitrogen emissions and deposition of nitrogen compounds have decreased since 1990 but relatively little compared to sulphur emissions. Agriculture and transport are the main sources of nitrogen pollution (EEA, 2007c). In addition, nitrogen components can lead to eutrophication of ecosystems. When this pollution exceeds certain levels ('critical load'), it is damaging to biodiversity. Critical load exceedance is still significant(1).

(1) The critical load of nutrient nitrogen is defined as 'the highest deposition of nitrogen as NOX and/or NHY below which harmful effects in ecosystem structure and function do not occur according to present knowledge' (ICP, M&M, 2004).


Total emissions of acidifying substances (sulphur, nitrogen) and of nitrogen in the EEA-32 from 1990 to 2006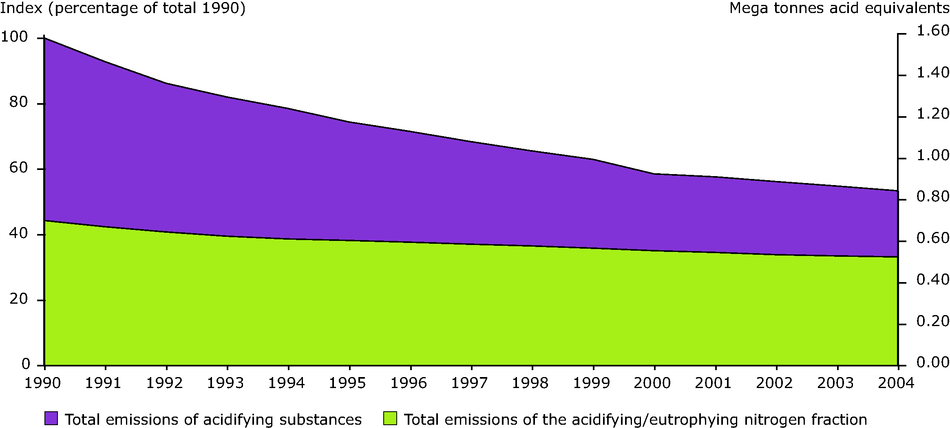 Note: How to read the graph: in 1990, the total of acidifying emissions was around 1 500 Gg, while for nitrogen fractions it was more than 500 Gg.
Data source:
EEA/ETC ACC.
Downloads and more info
Exceedance of the critical loads for eutrophication in Europe (as average accumulated exceedances), 2004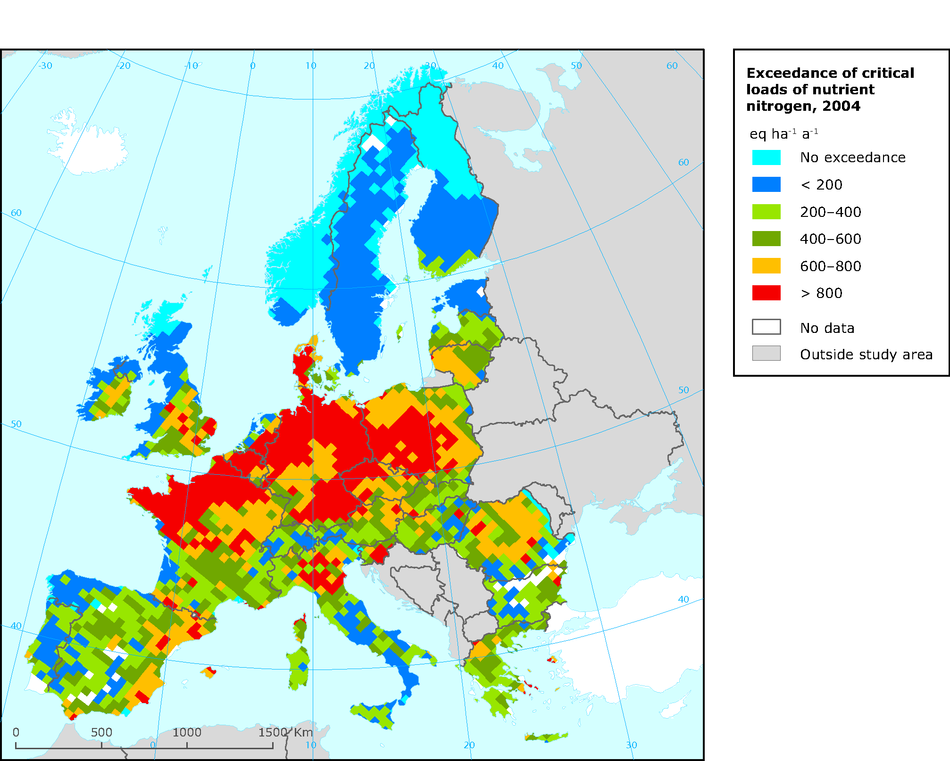 Note: How to read the map: for Norway, exceedances of the critical load for nutrient nitrogen are in general not a major problem. Size of grid-cell: 50 km x 50 km.
Data source:
CCE IMPACT Database MNP (Netherlands Environmental Assessment Agency); Coordination Centre for Effects (CCE), Data Centre of the International Cooperative Programme on Modelling and Mapping of Critical Levels and Loads and Air Pollution Effects, Risks and Trends (ICP Modelling and Mapping, ICP M&M), Convention on Long-range Transboundary Air Pollution (LRTAP) of the United Nations Economic Commission for Europe (UNECE) of the Convention on Long-range Transboundary Air Pollution. 2007.
CCE/EMEP, 2007. Personal communication, input to Air pollution in Europe 1990–2004. EEA Report No 2/2007. European Environment Agency, Copenhagen, Denmark. Available at: www.eea.europa.eu/publications/eea_report_2007_2.
CCE, 2007: 'Critical Loads of Nitrogen and Dynamic Modelling', Coordination Centre for Effects Progress Report 2007, MNP Report 500090001/2007.
Downloads and more info
Key assessment
Across the EU-25, approximately 47 % of (semi-) natural ecosystem areas were subject to nutrient nitrogen deposition leading to eutrophication in 2004. A relatively smaller 15 % of the ecosystem area received deposition of acidifying compounds including nitrogen (CCE/EMEP, 2007). Ecosystem types in use by European countries for critical load calculations are forests; marine and coastal habitats; littoral zones; mire, bog and fen habitats; grasslands and tall forb habitats; heathland, scrub and tundra habitats; inland un-vegetated or sparsely vegetated habitats; agricultural habitats; inland and surface water habitats (for details see CCE, 2007). The extent to which critical loads are exceeded varies significantly across Europe.
FURTHER INFORMATION
Data sources
More information about this indicator
See this indicator specification for more details.
Dates
Frequency of updates
Updates are scheduled every 5 years in October-December (Q4)
Permalinks
Permalink to this version

Permalink to latest version
For references, please go to www.eea.europa.eu/soer or scan the QR code.
This briefing is part of the EEA's report The European Environment - State and Outlook 2015. The EEA is an official agency of the EU, tasked with providing information on Europe's environment.
PDF generated on 03 May 2015, 04:39 PM