Combined heat and power (CHP) (ENER 020) - Assessment published Sep 2010
Indicator Assessment
—
expired
Created 08 Mar 2010
Published 14 Sep 2010
Last modified 12 Nov 2013, 01:03 PM
Note: new version is available!
This content has been archived on
12 Nov 2013
, reason:
Content not regularly updated
Generic metadata
Topics
:

Energy
(Primary topic)
Tags:
electricity | chp | fuels | heat | energy
DPSIR
: Response
Typology
: Efficiency indicator (Type C - Are we improving?)
Dynamic
Temporal coverage:
2007
Contents
Key policy question:
Is the European energy production system becoming more efficient?
Key messages
The share of electricity produced from combined heat and power (CHP) in the EU-27 remained the same between 2006 and 2007 at 10.9%, despite strong policy support to promote the technique in many Member States. High gas prices and relatively low electricity prices reduced the competitiveness of gas-fired CHP-plants. Greater incentives will be needed to reach the EU-15 indicative target of 18 % of CHP electricity in gross electricity production by 2010 (currently 10.2% of total gross electricity production in EU-15). In the new Member States the share of CHP in electricity production is 15.0% of total gross electricity production in these countries, approximately 1.5 times that in the EU-15.
Fuel input to CHP plants in the EU-27 in 2007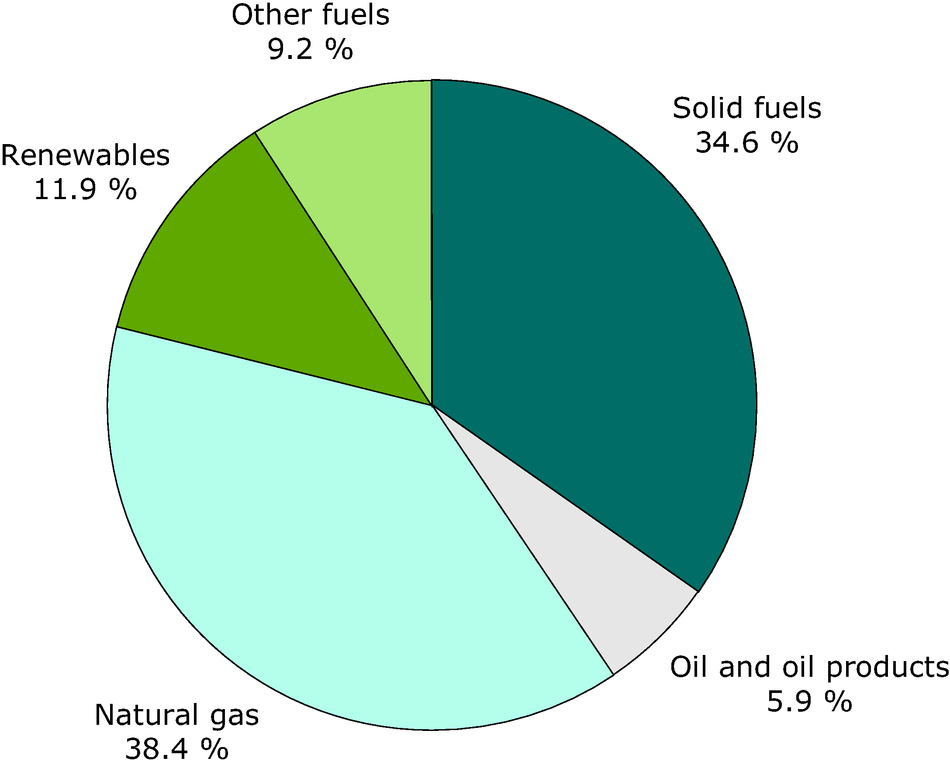 Note: Fuel input to CHP plants in the EU-27 in 2007
Downloads and more info
Key assessment
The share of electricity from combined heat and power in total gross electricity production in the EU-27 was 10.9 % in 2007, same as in 2006.

The preferred fuel for new CHP plants is natural gas due to its flexibility concerning the heat to power ratio as well as a better environmental performance compared for instance with liquid fossil fuels. In recent years, CHP has suffered from increasing natural gas prices and falling electricity prices, development which diminished the cost competitiveness of these plants. This trend may change in the future given that both prices have now started to rise again (see ENER 31). Other barriers included high costs for grid connection to sell surplus electricity, relatively high start-up costs, and the design of the policy framework in some cases.

Specific policy question: What are the key differences among European countries with respect to the promotion of CHP?
Fuel input to CHP plants in EU-27 and EEA countries in 2007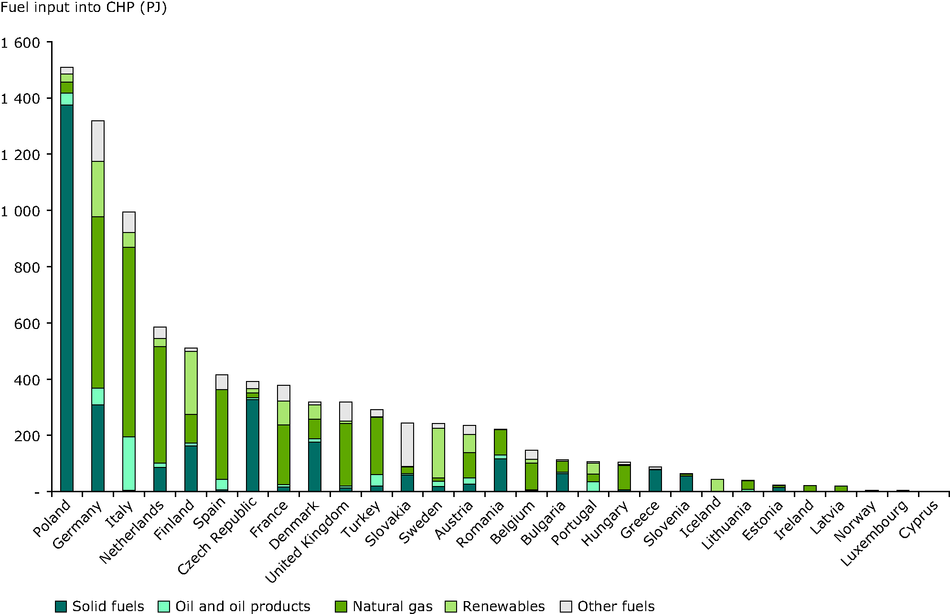 Note: Fuel input to CHP plants in EU-27 and EEA countries in 2007
Downloads and more info
Specific assessment
The share of CHP production in gross electricity production was significantly higher in 2007 in the new Member States (15.0 % of total gross electricity production in these countries) than in the EU-15, where the share was 10.2%. In 2006, these shares were 16 % (NMS) and 10.1 % (EU-15) (see Figure 1). Countries with a high market penetration of CHP electricity include Denmark (42.8%), Latvia (40.9 %), Finland (34.4 %) and the Netherlands (30.1 %). In Denmark CHP has received strong government policy support, providing tax incentives and subsidies, and growth has been seen mainly in public supply as a result of investments in district heating infrastructure. Government support was also an important factor in the Netherlands, combined with widespread availability of natural gas and a high concentration of intensive industrial processes. The high level of CHP production in Finland and Latvia partly reflects the cold climate, which provides scope for a better use of the heat as well as the electricity produced by CHP. In contrast to the process of energy market liberalisation in many other countries, the strong demand for both outputs coupled with a well developed district heating network, has actually helped to stimulate investment in CHP as opposed to hindering its expansion. Poor infrastructure for natural gas , unhelpful electricity market structues and less demand for heat, in particular in Greece and to a lesser extent Ireland and Portugal, has historically hindered CHP development and the share of CHP electricity remains low in these countries. Combined Heat/Cooling-Power Conversion may help utilise additional heat production in summertime and in warmer countries such as Greece and Portugal. A large decline in share was observed in Romania (from 18.0 % in 2006 to 10.7 % in 2007). Although the installed electrical CHP capacity increased with almost 10 %, the load factor decreased substantially, producing 41.6 % less electricity and 26.5 % less heat.

Many of the EU Member States have in place feed-in tariffs for CHP promotion. Apart from feed-in tariffs, other support mechanisms exist such as investment subsidies (Austria, Belgium, Bulgaria, Czech Republic, Cyprus, Finland, Germany, Greece, Ireland), certificate trading linked to obligations (Belgium), excise duty exemption, energy tax exemption (Belgium, Finland, Germany, UK), preferential treatment for grid access (Estonia, Slovakia, Bulgaria), fuel subsidy (gas used as input fuel for CHP in Bulgaria, wood chips in Finland), etc. to promote new CHP (COGEN2007a,b). The level of feed-in tariff sometimes depends on the size of the unit, on the fuel use (e.g. in Slovakia the feed-in tariff is linked to share of coal in the input fuel, in Estonia peat, waste and shale gas are promoted) or is linked with the obligation to deliver heat into the district heating system (e.g. Latvia).

The use of renewable energies (biomass) in CHP provides an opportunity to further improve the environmental performance of CHP, while simultaneously increasing renewable electricity production (see ENER30) and renewable heat production. However, renewables provided only 11.9 % of the fuel input in CHP plants in the EU-27 in 2007 (see Figure 2a), an increase of 0.3 percentage points compared to 2006. Natural gas accounted for 50.5 % of the fuel input in EU-15 (up from 49.6 % in 2006), and 13.1 % in the new Member States (down from 13.4 % in 2006). Solid fossil fuels such as coal and lignite provided 15.8 % of the fuel input in EU-15 (down from 16.1% in 2006) and 73.7 % of in the new Member States, up from 72.3 % in 2006 (see Figure 2b).

Data sources
More information about this indicator
See this indicator specification for more details.
Contacts and ownership
EEA Contact Info
User not found: barbuanc
Ownership
EEA Management Plan
2009 2.9.1
(note: EEA internal system)
Dates
Permalinks
Permalink to this version

Permalink to latest version
For references, please go to www.eea.europa.eu/soer or scan the QR code.
This briefing is part of the EEA's report The European Environment - State and Outlook 2015. The EEA is an official agency of the EU, tasked with providing information on Europe's environment.
PDF generated on 25 Apr 2015, 08:26 PM