Capacity of infrastructure networks
Indicator Assessment
—
expired
Created 18 Jun 2010
Published 15 Sep 2010
Last modified 04 Sep 2015, 06:59 PM
This content has been archived on
06 Aug 2015
, reason:
No more updates will be done
Indicator codes:
TERM 018
Key messages
During the last decade, the total length of Europe's motorway network, High Speed Rail (HSR) network, inland waterways and pipelines have increased. However, the total length of the conventional rail network has decreased.
While infrastructure length is only a proxy measure for capacity, the steady increase in the length of the motorway infrastructure between 1990 and 2008 suggests that road capacity has expanded to the detriment of conventional rail. The data may not show the full extent of the divergence as motorway length may have increased even more than noted since additional lanes are not counted in the statistics (see the Definitions Section) and the rail network may have decreased further through reducing double track to single or reducing signalling spacing, which statistics do not show. The data shows that the negative effect is bigger for the new Member States (EU-12) than for the EU-15 countries. For example, the length of rail infrastructure, fell much more in the EU-12 than in the EU-15 during this time period.
Increasing infrastructure capacity is not always necessary. Optimization of the capacity of the existing infrastructure through interconnectivity, interoperability, intermodality and road pricing still has lots of potential throughout Europe. The application of these principles might be more beneficial to society and definitely to the environment than the construction of new infrastructure when capacity and congestion problems arise.
Is existing infrastructure capacity being optimised?
Length of land transport infrastructure in the EEA-32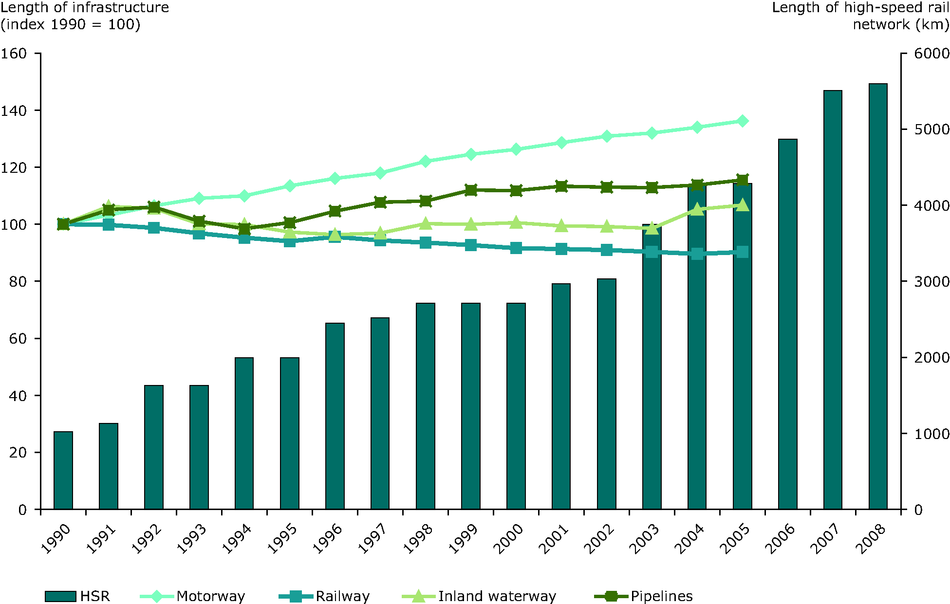 Note: The question: "are we optimising the use of existing transport infrastructure capacity and moving towards a better-balanced intermodal transport system" has attempted to been answered by referring to data available on network lengths. The indicator covers roads, motorway, railway (including high speed rail lines – HSR), navigable inland waterway lines and pipelines. Additionally it looks at transport infrastructure density in terms of land area (kilometres per km2) and transport infrastructure density in terms of population (km per 1000 inhabitants).
Data source:
Eurostat, Lenth of Motorways length, http://epp.eurostat.ec.europa.eu/portal/page/portal/transport/data/database Date of extraction: Tue, 21 Apr 09 03:51:32

Eurostat, Railway length, http://epp.eurostat.ec.europa.eu/portal/page/portal/eurostat/home, Date of extraction: Tue, 21 Apr 09 03:51:32
Eurostat, Inland waterway, length http://epp.eurostat.ec.europa.eu/portal/page/portal/eurostat/home, Date of extraction: Tue, 21 Apr 09 03:51:32
Eurostat, Oil pipe lines, http://epp.eurostat.ec.europa.eu/portal/page/portal/eurostat/home, Date of extraction: Tue, 21 Apr 09 03:51:32

UIC (International Union of Railways), HRS length, www.uic.org, Date of extraction: April, 2009
Infrastructure density EEA
Downloads and more info
Utilization of rail infrastructure for passenger and freight transport (2005)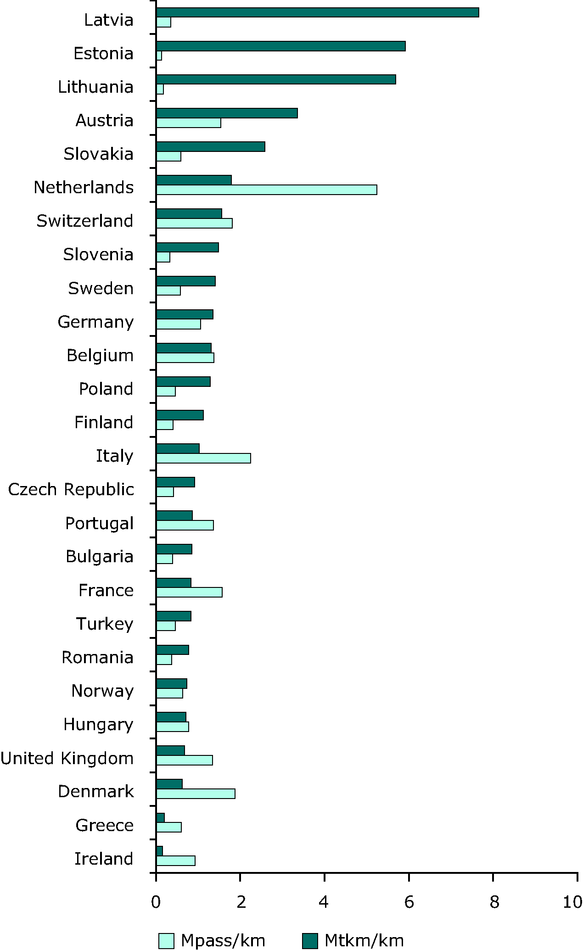 Note: Figure provides total freight traffic per kilometre against passengers carried per kilometre for the year 2005. The utilisation of railway infrastructure shows a regional divide, in that the new member states show comparatively high utilisation of rail infrastructure for freight transportation, whereas the EU15 countries achieve higher utilisation in passenger rail transport.
Downloads and more info
Infrastructure networks
During the period 1995 to 2005, for the 28 countries included in the analysis, the motorway network has increased in overall length by over 20%. The strongest growth in the length of motorways can be observed in France, Germany and Portugal. The growth of motorway construction will probably continue in the next decade, because the motorway density in terms of land area in the EU15 is around 10 times that of the EU12, although the population density is only around half of that of the EU15.
The rail network amounted to about 392,000 kilometres in the EEA-32 area in 1990 and has declined by approximately 10% since then. Roughly 54 % of the EEA-32 network (in 2005) is electrified, although some countries have not supplied data. However, the share of train-kilometres operated on electrified lines is likely to be higher, as electrified lines tend to be the busiest. The length of the EU's high speed rail (HSR) network has increased rapidly and has started to compete with low cost airlines on short distance flights (under 500 kilometres). Between 2000 and 2008, the network has increased by 2890 kilometres, and currently stands at almost 5600 kilometres. A further 4000 kilometres was under construction in 2008 which will lead to further significant expansion of the network in the coming years (Figure 2). Figure 3 provides total freight traffic per kilometre against passengers carried per kilometre for the year 2005. The utilisation of railway infrastructure shows a regional divide, in that the new member states show comparatively high utilisation of rail infrastructure for freight transportation, whereas the EU15 countries achieve higher utilisation in passenger rail transport.
Since 1990, the inland waterways network in the EEA32 has increased in length by almost 7% and in 2005 was about 40,000 kilometres long. The greatest increases have been seen in Germany, Finland, the Netherlands and the Czech Republic, whilst the greatest decreases have occurred in Slovakia and Estonia.
The trans-European gas pipeline infrastructure across 38 European countries (EEA-32 plus Morocco, Tunisia, Belarus, Ukraine, Turkey and West Russia) exceeds 436 thousand kilometres (Carvalho et. al, 2009). Table 2 lists gas pipelines directly linked to Europe or under development. Oil pipeline infrastructure was approximately 33 thousand kilometres in 18 European countries in 2005 and showed almost a 16% increase since 1990.
Infrastructure density
Infrastructure density, measured as the length of infrastructure per unit land area, is a proxy indicator for a country's transport capacity (see Table 1) but is to some extent correlated with geographical characteristics. Densely populated small countries (Netherlands, Belgium, and Luxembourg) show high infrastructure densities, while the Scandinavian countries and most new member states show relatively low infrastructure densities. The density of infrastructure is also a proxy-indicator for accessibility, since it provides a measure of travel distances to transport networks.
Network extension
The original priority of TEN-T (Trans - European Transport Network) was the elimination of bottlenecks, in particular in the frontier regions of the accession countries and the development of infrastructure projects crossing through natural barriers. The Gothenburg European Council in 2001 invited the Community institutions to adopt revised guidelines for the TEN-T, with a view to giving priority, where appropriate, to infrastructure investment for railways, inland waterways, short sea shipping, intermodal operations and effective interconnections (European Commission, 2004).
The Community Decision No. 884/2004/EC of 29 April 2004 amending the Community guidelines for the development of the TEN-T identified a set of thirty priority projects. Of these 18 are railway projects, 3 are mixed road/rail projects, 2 are inland waterway projects and 1 a sea project. The choice reflects a shift towards supporting more environmentally friendly transport modes
In February 2009, the Commission issued a Green Paper setting out the future challenges of its policy for a trans-European transport network. The paper stated that the policy needs to be re-aligned to contribute more effectively to objectives aimed at combating climate change. Stakeholders were invited to express their views on the proposal. The policy review currently underway will identify upcoming challenges for the TEN-T programme. At the end of October 2009, there will be a meeting in Naples at which there will be an in-depth discussion between stakeholders on the direction and objectives of future European transport policy. This conference will be a follow-up to the Green Paper and will set out policy options for the coming decade, taking particular account of targets in the fight against climate change and technological advances in the fields of transport and energy.
Indicator specification and metadata
Indicator definition
An answer to the question "are we optimising the use of existing transport infrastructure capacity and moving towards a better-balanced intermodal transport system" has been attempted by referring to data available on network lengths, as described in the rationale section.
This indicator covers roads, motorways, railways (including high speed rail lines – HSR), navigable inland waterway lines (see definitions of the terms below) and pipelines. Additionally, it looks at transport infrastructure density in terms of land area (kilometres per km2) and at transport infrastructure density in terms of population (km per 1000 inhabitants).
Roads
Road: Line of communication (travelled way) using a stabilised base other than rails or air strips open to public traffic, primarily for the use of road motor vehicles running on their own wheels. Bridges, tunnels, supporting structures, junctions, crossings and interchanges are included, as are toll roads. Dedicated cycle paths are excluded.
Road network: All roads in a given area.
Motorway: Road, specially designed and built for motor traffic, which does not serve properties bordering on it, and which:
Is provided, except at special points or temporarily, with separate carriageways for the two directions of traffic, separated from each other, either by a dividing strip not intended for traffic, or exceptionally by other means;
Does not cross at level with any road, railway or tramway track, or footpath; and
Is specially sign-posted as a motorway and is reserved for specific categories of road motor vehicles.
Entry and exit lanes of motorways are included irrespectively of the location of the signposts. Urban motorways are also included.
Railways
Railway: Line of communication made up by rail exclusively for the use of railway vehicles. The line of communication is part of the space equipped for the execution of transport.
Railway network: All railways in a given area. This does not include stretches of road or water, even if rolling stock should be conveyed over such routes, e.g. by wagon-carrying trailers or ferries. Lines solely used for touristic purposes during the season are excluded as are railways constructed solely to serve mines, forests or other industrial or agricultural undertakings and which are not open to public traffic.
High-speed line: A line specially built to allow traffic at speeds generally equal to or greater than 250 kilometres per hour for the main segments. High-speed lines may include connecting lines, in particular junctions with town centre stations located on them, on which speeds may take account of local conditions (adapted from Directive 98/48/EC).
Navigable inland waterways
Waterway: River, canal, lake or other stretch of water, which by natural or man-made features is suitable for navigation. Waterways of a maritime character (waterways designated by the reporting country as suitable for navigation primarily by sea-going ships) are included. Waterways also include river estuaries; the boundary being that point nearest the sea where the width of the river is both less than 3 km at low water and less than 5 km at high water.
Navigable inland waterway: A stretch of water, not part of the sea, over which vessels of a carrying capacity of not less than 50 tonnes can navigate when normally loaded. This term covers both navigable rivers, lakes and canals. The length of rivers and canals is measured mid-channel. The length of lakes and lagoons is measured along the shortest navigable route between the most distant points to and from which transport operations are performed. A waterway forming a common frontier between two countries is reported by both.
Pipelines
Oil pipelines: Pipes for the movement, by pumping, of crude or refined liquid petroleum products. Branch lines are included, as are oil pipelines between land and drilling platforms at sea. Oil pipelines whose total length is less than 50 kilometres, or whose inside diameter is less than 15 centimetres, and oil pipelines used only for military purposes or located entirely within the site boundaries of an industrial operation, as well as oil pipelines that are entirely off-shore (i.e. located solely out in the open sea) are excluded. International oil pipelines whose total length is 50 kilometres or more are included, even if the section in the reporting country is less than 50 kilometres long. Oil pipelines consisting of two (or more) parallel pipelines are to be counted twice (or more). Only units, which actually carry out an activity during the reference period, should be considered. "Dormant" units, or those not yet having begun their activity, are excluded.
Oil pipeline network: All oil pipelines in a given area. The territory of the area in question includes that part of the seabed allocated to it under a concession.
Units
Infrastructure networks (capacity) are measured in kilometres (km).
Infrastructure density is measured in km/1 000 km2 and km/1 000 population.
Policy context and targets
Context description
Transport infrastructure forms the arteries of the European internal market. It also contributes to social cohesion in terms of accessibility. However, infrastructure or the absence thereof, may equally produce and reinforce social inequality and fragmentation. It also contributes to a number of environmental impacts. Infrastructure construction puts pressure on the environment by destroying natural habitats and by cutting through wildlife areas, leading to fragmentation and disruption of natural behaviours and breeding territories. Additionally, the environment close to infrastructure suffers from higher noise levels, air pollution and dangers created by vehicles among other issues. The effects of infrastructure on land and nature are assessed in TERM 06 "Fragmentation", TERM 07 "Proximity to designated nature areas" and TERM 08 "Land take".
The European Commission has set itself the objective of offering users high-quality and safe infrastructure that includes all modes of transport and allows the optimal usage of existing capacities, by either creating new or upgrading existing infrastructure (European Commission, 2001 and 2009). Additionally, in the Reviewed Sustainable Development Strategy (European Commission, 2006), the Commission recognises that if congestion, greenhouse gas emissions and pollution are to be tackled, demand must be shifted towards more environmentally friendly transport modes. The Strategy clearly states that the EU and Member States should take measures to improve the economic and environmental performance of all modes and enable a shift from road to rail, water and public passenger transport. This includes lower transport intensity through production and logistic process reengineering and behavioural change, combined with a better connection of the different transport modes.
Historically, most transport infrastructure in Europe has been developed under national policies. In order to establish a single, multimodal network that integrates European land, sea and air transport networks, the EU established the Trans-European transport network (TEN-T), enabling the Lisbon Strategy (European Council, 2000), which aimed to make the EU the most dynamic and competitive economy by 2010. A key issue identified by the Commission in relation to the implementation of the TEN-T policy is to rationalise the allocation of resources and select those projects that will provide the best value for the Community's money. This programme also contributed to the opening of a new high speed rail network, which competes with both air and road transport, and with an increased modal shift, has even greater opportunities to reduce air transport emissions and travel (European Commission, 2009).
The European Council adopted Directive 96/48/EC of 23 July 1996, as amended by Directive 2004/50/EC of 29 April 2004, on the interoperability of the trans-European high-speed rail system to facilitate, improve and develop international rail transport services within Europe. It also requires that Member States establish a register that in part contains information on the infrastructure and rolling stock of the trans-European high-speed rail system, and which must be updated and reported annually.
Targets
One of the important targets for road infrastructure is removing bottlenecks.
In addition, a number of targets have been set in the EC paper "Towards a rail network giving priority to freight" (European Commission, 2007b), some of which relate to infrastructure development, not necessarily covered by, but relevant to this indicator, such as:
create a strong European rail network as part of the TEN-T over which freight transport will be more reliable and efficient;
undertake new measures to create a freight-oriented network;
increase the capacity of corridors in terms of freight length, gauge, axle load and maximum speed.
The EC Green Paper "TEN-T: A policy review" raised one more possible target, that of separating rail freight and passenger infrastructure to ensure better capacity and provide for the different needs of both services (European Commission, 2009). The revision is still in progress and the scope of the policy and targets are to be set.
The EU's policy to promote inland waterway transport is reflected in the Integrated Action programme "NAIADES" 2006-2013. One of the objectives is to provide adequate waterway infrastructure and to develop it in a coordinated and integrated way. TEN-T programme project No. 18 is dedicated to inland waterways and its completion should finalise the current Europe wide (18 participating countries) waterway infrastructure.
Pipelines are the most efficient, economic and safe transport mode for crude oil transportation. Recently EU energy policy underwent a second strategic energy review, resulting in the Third Energy Package, agreed in May 2009 by the European Parliament. One of the five points of the EU Energy Security and Solidarity Action plan focuses on infrastructure needs and the diversification of energy supplies (DG TREN, 2008). The declaration signed in 2007 for the construction of a pipeline to bring oil from the Black Sea by 2012 is an action that is already in progress (EurActive, 2007). Future developments of the oil pipeline infrastructure should not only provide greater oil supply security for the EU, but should also be in line with the "20-20-20 initiative", which should make the EU less dependent on oil and gas import by increasing the share of renewable energy in overall energy consumption.
Most recently, in March 2011, the European Commission published a Transport White Paper (European Commission, 2011) that includes a number of objectives and targets for transport. In particular, there are a number of objectives aimed at 'Optimising the performance of multi-modal logistic chains, including by making greater use of more energy-efficient modes', which will in most cases have a direct impact on transport infrastructure investment and capacity. These include:
30 % of road freight over 300 km should shift to other modes such as rail or waterborne transport by 2030, and more than 50 % by 2050. This shift is to be facilitated by efficient and green freight corridors. To meet this goal will also require appropriate infrastructure to be developed.
Complete a European high-speed rail network by 2050. Triple the length of the existing high-speed rail network by 2030 and maintain a dense railway network in all Member States. By 2050, the majority of medium-distance passenger transport should go by rail.
A fully functional and EU-wide multi-modal TEN-T 'core network' by 2030, with a high quality and capacity network by 2050, and a corresponding set of information services.
By 2050, connect all core network airports to the rail network, preferably high-speed; ensure that all core seaports are sufficiently connected to the rail freight and, where possible, inland waterway systems.
Related policy documents
Methodology
Methodology for indicator calculation
Data are collected by Eurostat. Data on HRS length are collected by the International Union of Railways. More details on the methodologies used for collecting these data are available on the relevant websites (see Data Specification).
Methodology for gap filling
Capacity is defined as the maximum traffic flow (vehicle-kilometres in a given time unit) that can be carried by transport infrastructure. However, such data are not available. Therefore, the length of transport infrastructure by type (e.g. motorways, railways, navigable inland waterways and oil pipelines) is taken here as a proxy indicator for capacity of road, rail and inland waterways.
Due to various inconsistencies with road classification, road infrastructure is not provided in this indicator. The exception to this is for motorways, for which there is a clear definition available (see earlier text).
Pipelines for transport of natural gas are not included because of a lack of available data, however, information on gas pipelines serving Europe has been found in the French Institute for International Relations (Nies, 2008), where detailed information per pipeline has been collected from various sources. Another source of gas pipeline capacity data could be Platts Natural Gas (http://www.platts.com).
Methodology references
No methodology references available.
Uncertainties
Methodology uncertainty
No uncertainty has been specified.
Data sets uncertainty
No uncertainty has been specified.
Rationale uncertainty
No uncertainty has been specified.
Data sources
Generic metadata
Topics
:

Transport
(Primary topic)
Tags:
DPSIR
: Driving force
Typology
: Descriptive indicator (Type A - What is happening to the environment and to humans?)
Dynamic
Temporal coverage:
1990-2008
Contacts and ownership
Ownership
EEA Management Plan
2009 2.10.2
(note: EEA internal system)
Dates
Frequency of updates
This indicator is discontinued. No more assessments will be produced.
Permalinks
Permalink to this version

Permalink to latest version
For references, please go to www.eea.europa.eu/soer or scan the QR code.
This briefing is part of the EEA's report The European Environment - State and Outlook 2015. The EEA is an official agency of the EU, tasked with providing information on Europe's environment.
PDF generated on 05 May 2016, 05:36 AM