Aquaculture: effluent water quality from finfish farms
Indicator Assessment
Created 17 Sep 2009
Published 21 May 2010
Last modified 27 Oct 2015, 12:29 PM
Indicator codes:
SEBI 022
Key messages
Aquaculture production in Europe has increased in the EU since 1990, levelling off slightly since 2000 although Norway and Iceland continue to show large increases. This overall increase implies a rise in pressure on adjacent water bodies and associated ecosystems resulting mainly from nutrient releasefrom aquaculture facilities. Annual production in the current version of the indicator is a proxy for the environmental impacts of aquaculture. Work is underway to develop a more advanced indicator to assess the sustainability of aquaculture.
What are the main trends in aquaculture across Europe?
Annual aquaculture production by country in 2001 and 2006
Note: How to read the graph: in Spain the annual aquaculture production decreased from 310 000 tonnes in 2001 to 293 000 tonnes in 2006
Downloads and more info
Annual aquaculture production by major area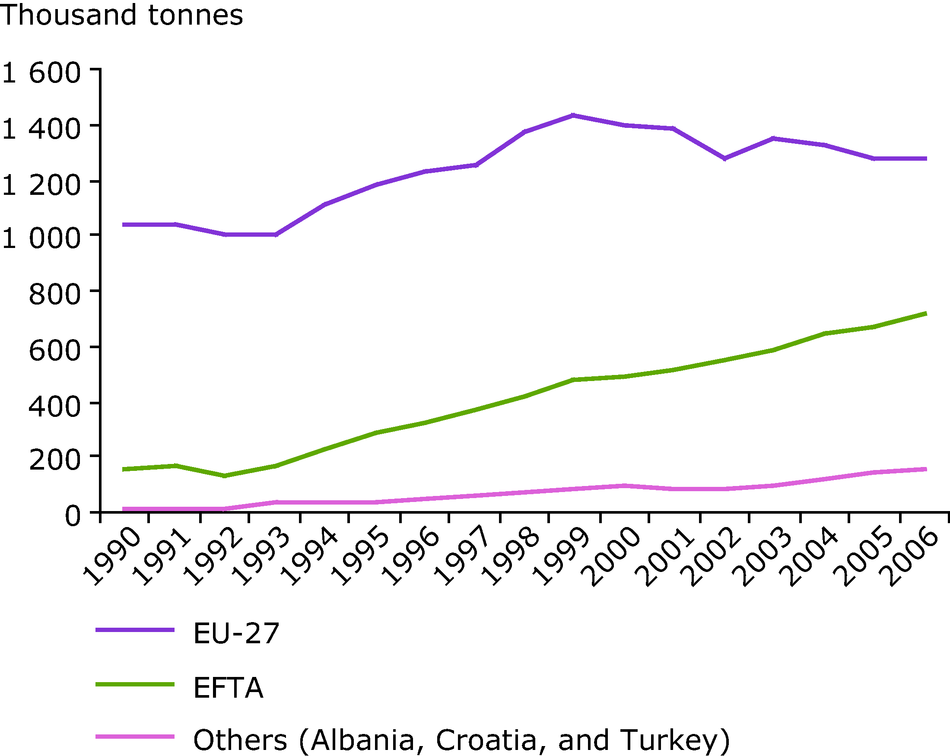 Note: How to read the graph: In EFTA, between 1990 and 2006 the annual aquaculture production increased from 150 000 to 720 000 tonnes
Downloads and more info
Total European aquaculture production has grown significantly in the past 15 years due to expansion in the marine sector in the EU and EFTA countries although this has slowed since 1999. This represents a rise in pressure on water bodies and associated ecosystems resulting mainly from nutrient release from aquaculture facilities. The increase in both production and pressure on the environment has not been uniform across countries or production systems. Mariculture has increased significantly, brackish water production has increased at a much lower rate and freshwater production has declined.
Improvements in the efficiency of feed and nutrient utilisation as well as environmental management have to some extent mitigated environmental pressures.
The biggest European aquaculture producers are found in the EU-15 + EFTA region. Norway has the highest production, followed by Spain, France, Italy and the United Kingdom. These five countries account for nearly 75 % of all aquaculture production amongst 34 European countries.
Different types of aquaculture generate different pressures on the environment although the main pressures are discharges of nutrients, antibiotics and fungicides. In addition, wild fish is often used as the basis for fish food. According to one estimate (UNEP, 2004), 4 - 6 kg of wild fish are ground into meal to produce 1 kg of farmed fish.
Intensive finfish production (mainly salmonids in marine, brackish and freshwaters, and sea bass and sea bream in the marine environment) exerts the greatest pressure on the environment.
Precisely this sector has grown fastest in recent years. The cultivation of bivalve molluscs also creates pressures (removal of plankton and local concentration and accumulation of organic matter and metabolites) but these are less severe than those from intensive finfish cultivation. Environmental pressure per unit production in inland waters (e.g. pond aquaculture of carp) is generally less than for the more intensive coastal salmonid production.
The amount of antibiotics used has been reduced drastically in recent years following the introduction of vaccines and improved husbandry practices. Improvements in the efficiency of feed and nutrient utilisation as well as environmental management also mitigate the environmental pressure of marine farms.
The greatest marine aquaculture production in relation to coastline length is found in Spain, France, the Netherlands, Romania, Bulgaria, and Turkey.
Production intensity is on average eight tonnes per km of coastline in EU-10 + EFTA countries compared with two tonnes per km in the EU-10 + Romania + Bulgaria + Balkan region. As production of species such as cod, halibut and turbot becomes more reliable, growth of aquaculture (and related pressures) is likely to continue to increase. At the same time, significant improvements have been made in reducing effluents from fish farms. For example, it was reported (Enell, 1995), that in Nordic fish farms between 1974 and 1994, the loads of nitrogen were reduced from 132 kg per tonne of fish produced to 55 kg/t, and levels of phosphorus were reduced from 31 kg/t to 5 kg/t. Similarly, nitrogen discharge per tonne production in EU aquaculture was three times lower in 2003 than in 1983 (INDENT, 2006).
REFERENCES
Enell, M., 1995. 'Environmental impact of nutrients from Nordic fish farming'. Water Science and Technology 31(10):61-71.
INDENT, 2006. Indicators of Environmental integration. Final report. Tender Reference No FISH/2004/12.
UNEP, 2004. Resource Kit for Sustainable Consumption and Production Patterns. Available at: http://www.unep.org/PDF/sc/SC_resourcekit.pdf. [Accessed 23 June 2009]
FURTHER INFORMATION
Indicator specification and metadata
Indicator definition
Annual trend in release of nutrients into the marine environment as a result of aquaculture practices.
Units
production is expressed in tonnes
Policy context and targets
Context description
The importance of aquaculture as a source of fish protein in the EU is increasing. In 2004 aquaculture contributed almost 19 % to the total fisheries production of EU-25 an increase of nearly 2 % over the situation in 2000. However, this was not due to an increase in aquaculture production, which has remained relatively stable since 2000, but due primarily to a decrease of nearly 10 % in the total fisheries production. One of the goals of the EU Common Fisheries Policy (CFP) is to take measures to mitigate the impact of aquaculture on the environment.
In general, effluent water quality is determined by the concentration of nutrients in the discharge water and hence by the amount of nutrients produced that will be discharged, and the flow rate of the effluent. In the case of aquaculture the production of nutrients that will be discharged in the marine environment is determined.
Relation of the indicator to the focal area

Aquaculture typically takes place in water of high quality. The principal measurable environmental pressures of aquaculture production are increased local organic matter, nitrogen and phosphorous which in turn may lead to locally increased Biological Oxygen Demand, eutrophication, and possibly algal blooms. In the absence of major improvements in industry practices, increased production is likely to be associated with increases in all these pressures and thus unsustainability (NB: some local systems may however have a higher carrying capacity than others).
Any localised degradation will lead to production problems on farms. Pressure from nutrients from intensive cultivation in marine and brackish water is becoming significant in the context of total nutrient loadings to the coastal environment. Although the environmental pressure from aquaculture will continue to grow as European aquaculture production expands, the rate of increase may be mitigated substantially by adoption of more sustainable management practices and production techniques.

Targets
No targets have been specified
Related policy documents
No related policy documents have been specified
Methodology
Methodology for indicator calculation
The actual nitrogen and phosphorus discharge can be estimated by modelling the nutrient production by aquaculture operations by applying the appropriate conversion factors.
The proportion of aquaculture production which results in nutrient waste can be based upon the mid-range of values of 55g N released per kg production (5.5 %) and 7.5g P/production Kg (0.75 %) for finfish marine and brackish water production in the Atlantic and (66g N /production Kg (6.6 %) and 3g P /production Kg (0.3 %) in the Mediterranean.
Otherwise a formula can be used for Nitrogen
Discharged nitrogen = Feed nitrogen -- ish nitrogen
where Fish nitrogen = Total fish production * Protein level in fish/6.25
Feed nitrogen = Protein level /6.25 * Amount of feed
Amount of feed = Total fish production * Feed conversion rate
The total EU production is determined using FAO statistics.
Feed conversion rate and Protein level in the feed can be collected among fish feed manufactures as they have not been systematically documented.
Protein level in the fish can be obtained from scientific the literature.
Further methodological detail can be found in the specification sheet for CSI 033 at
http://themes.eea.europa.eu/IMS/IMS/ISpecs/ISpecification20041007132239/full_spec.
Methodology for gap filling
No methodology for gap filling has been specified. Probably this info has been added together with indicator calculation.
Methodology references
Uncertainties
Methodology uncertainty
No uncertainty has been specified
Data sets uncertainty
No uncertainty has been specified
Rationale uncertainty
MAIN DISADVANTAGES OF THE INDICATOR
Calculations are based on conversion factors and statistics on:
Total fish production, Feed conversion rate, Protein level in the feed, and Protein level in the fish. All but the first are species specific and average values have to be derived.
The impact of nutrient release is site specific, depending on widely varying production practises, and local conditions coupled with the assimilative capacity of different habitats.
Data sources
Generic metadata
Topics
:

Biodiversity
(Primary topic)
Tags:
DPSIR
: Pressure
Typology
: Descriptive indicator (Type A - What is happening to the environment and to humans?)
Dynamic
Temporal coverage:
1990-2006
Contacts and ownership
Ownership
EEA Management Plan
2010 1.2.2
(note: EEA internal system)
Dates
Frequency of updates
Updates are scheduled every 2 years
Permalinks
Permalink to this version

Permalink to latest version
For references, please go to www.eea.europa.eu/soer or scan the QR code.
This briefing is part of the EEA's report The European Environment - State and Outlook 2015. The EEA is an official agency of the EU, tasked with providing information on Europe's environment.
PDF generated on 30 Apr 2016, 06:02 AM