APE_F02: Emissions of acidifying substances - outlook from WBCSD (Outlook 018) - Assessment published Jun 2007
Indicator Assessment
—
expired
Created 08 Jan 2007
Published 08 Jun 2007
Last modified 12 Nov 2013, 09:02 AM
This content has been archived on
12 Nov 2013
, reason:
Content not regularly updated
Generic metadata
Topics
:

Environmental scenarios
(Primary topic)
Tags:
DPSIR
: Pressure
Typology
: Performance indicator (Type B - Does it matter?)
Contents
Key policy question:
What are prospects in reducing emissions of acidifying pollutants across Europe?
Key messages
In developed countries efforts have been underway for decades to reduce acidifying substances (NOx). There is a progress in reducing total NOx. Emissions per vehicle kilometer for light-duty vehicles have been substantially reduced. But growth in transport activity and problems in controlling in-use emissions have tended to offset some of the hoped-for improvements.
The situation regarding acidifying substances in the transition countries (EECCA and SEE) (especially its rapidly-growing urbanized areas) is somewhat different. Although NOx is expected to be reduced it will not happen as easily or as quickly as desired.
Emissions of NOx from road transport from 2000 to 2050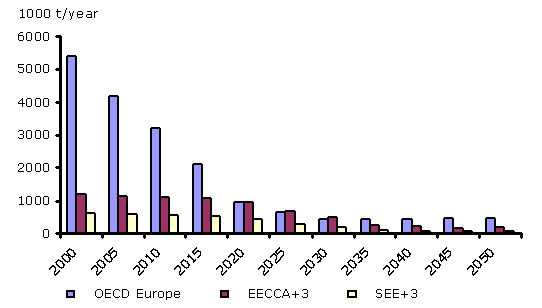 Note: road transport include light-duty vehicles, freight trucks, buses, and 2-3 wheelers
Downloads and more info
Key assessment
In developed countries it now appears that the efforts to curtail the total volume of emissions of the remaining transport-related "conventional" pollutants are bearing fruit. Much tighter vehicle emissions standards have been enacted, and the equipment to support them is being installed on new vehicles. The cleaner fuels required to permit this equipment to operate effectively are being produced and made widely available, at least in the developed world. For these reasons, it reasonable to project sharp reductions in the emissions of these "conventional" pollutants given policies now in place (or about to be implemented) in most developed countries.
The situation regarding acidifying substances (NOx) in the transition countries of EECCA and SEE (especially its rapidly-growing urbanized areas) is somewhat different. NOx emissions will not be reduced as easily or as quickly. Transport activity is projected to grow much more rapidly than in the developed world. And the rate of introduction of vehicle pollution control technology and the necessary related fuels in developing countries lags considerably behind that in developed countries. In the reference scenario, this lag is projected to continue but not worsen. It is assumed that assuring compliance with pollution control standards may prove more difficult in transition countries than developed countries.
It is expected that total emissions of most conventional pollutants will be reduced less rapidly, certainly for the next few decades and perhaps longer, before eventually declining.
The main reason of the decreasing amount of NOx emissions appeared from the implementations of the strict standards and controls required by the accessed EU emission sectoral legislation and accordingly to the main policy, which addressed air pollution issues in Europe, the National emission ceilings directive. While temporary increasing of NOx emissions in countries with transition economies are caused by increasing economical growth and, therefore, transport activity in the region.
Data sources
More information about this indicator
See this indicator specification for more details.
Contacts and ownership
EEA Contact Info
User not found: velkavrh
Ownership
EEA Management Plan
2010
(note: EEA internal system)
Dates
Permalinks
Permalink to this version

Permalink to latest version
For references, please go to www.eea.europa.eu/soer or scan the QR code.
This briefing is part of the EEA's report The European Environment - State and Outlook 2015. The EEA is an official agency of the EU, tasked with providing information on Europe's environment.
PDF generated on 25 Apr 2015, 10:51 PM