Animal phenology
Indicator Assessment
Created 08 Sep 2008
Published 08 Sep 2008
Last modified 04 Sep 2015, 06:59 PM
Note: new version is available!
Indicator codes:
CLIM 025
Key messages
Climatic warming has caused advancement in the life cycles of many animal groups, including frogs spawning, birds nesting and the arrival of migrant birds and butterflies. Seasonal advancement is particularly strong and rapid in the Arctic.
Breeding seasons are lengthening, allowing extra generations of temperature-sensitive insects such as butterflies, dragonflies and pest species to be produced during the year.
These trends are projected to continue as climate warming increases in the decades to come. Populations may explode if the young are not exposed to normal predation pressures. Conversely, populations may crash if the emergence of vulnerable young is not in synchrony with their main food source or if shorter hibernation times lead to declines in body condition.

..
Trend in egg-laying dates of the Pied flycatcher across Europe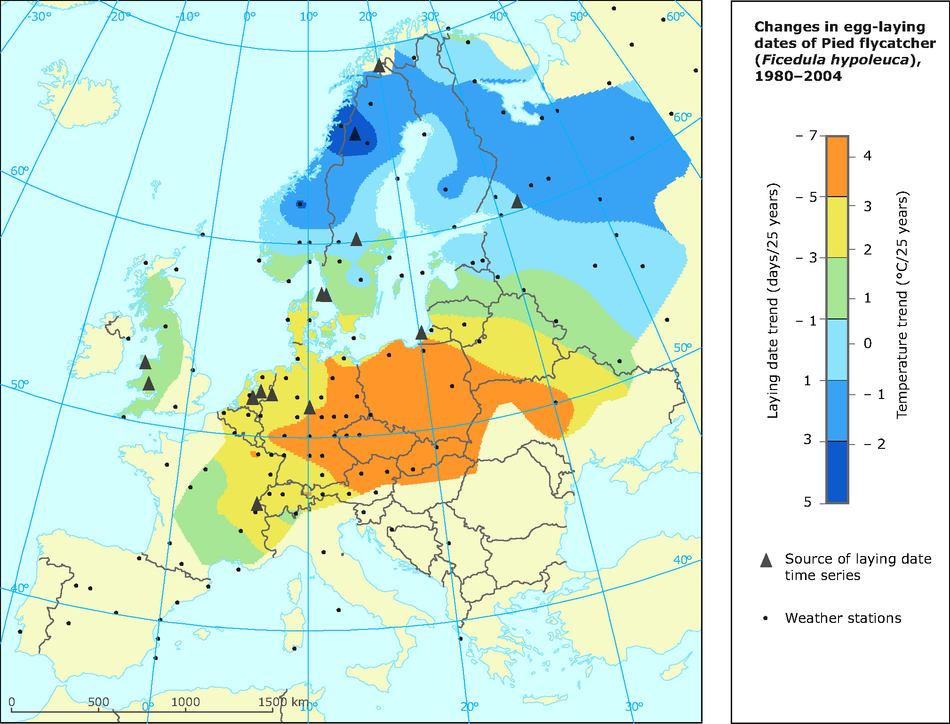 Note: This map shows the trend in egg-laying dates of the Pied flycatcher across Europe (1980-2004). Dots: weather stations used to calculate changes in local egg-laying dates (derived from temperature data); triangles: location of Pied flycatcher laying date time series.
Downloads and more info
Past trends
As spring temperatures increased in Europe over the past 30 years, many organisms responded by advancing the timing of their growth and reproduction.
A study in Britain (Crick and Sparks, 1999) analysed 74 258 records for 65 bird species from 1971 to 1995. The study showed significant trends towards earlier (8.8 days on average) laying dates for 20 species (31 %), with only one species laying significantly later. The effects, however, are not necessarily uniform. The predicted egg-laying date for the pied flycatcher (Ficedula hypoleuca), for example, shows significant advancement during the period 1980 to 2004 in western and central Europe, but delays in northern Europe (Figure 1); both are strongly driven by temperature trends (Both and Marvelde, 2007).
Strong and rapid phenological changes have been observed in the high latitudes in response to warming of the region occurring at twice the global average rate (Hoye et al., 2007). The date of snowmelt in northeast Greenland has advanced by an average of 14.6 days since the mid 1990s, resulting in earlier egg-laying dates for birds in the region.
Projections
The future impacts of climate change on animal phenology are poorly understood, but could include increasing trophic mismatch and disturbance to ecosystem functioning. The trend towards warmer springs may continue to induce earlier breeding and migration activity. Unpredictable cold snaps are likely to cause high mortality amongst early movers. Meanwhile, species whose life cycles are calibrated according to day length, and which do not respond so readily to changing temperatures, will not be able to exploit earlier spring resources unless they can adapt.

Indicator specification and metadata
Policy context and targets
Context description
In April 2009 the European Commission presented a White Paper on the framework for adaptation policies and measures to reduce the European Union's vulnerability to the impacts of climate change. The aim is to increase the resilience to climate change of health, property and the productive functions of land, inter alia by improving the management of water resources and ecosystems. More knowledge is needed on climate impact and vulnerability but a considerable amount of information and research already exists which can be shared better through a proposed Clearing House Mechanism. The White Paper stresses the need to mainstream adaptation into existing and new EU policies. A number of Member States have already taken action and several have prepared national adaptation plans. The EU is also developing actions to enhance and finance adaptation in developing countries as part of a new post-2012 global climate agreement expected in Copenhagen (Dec. 2009). For more information see: http://ec.europa.eu/environment/climat/adaptation/index_en.htm
Targets
No targets have been specified
Related policy documents
No related policy documents have been specified
Data sources
Generic metadata
Topics
:
Climate change
(Primary topic)
Tags:
DPSIR
: Impact
Typology
: Descriptive indicator (Type A - What is happening to the environment and to humans?)
Dynamic
Temporal coverage:
1980-2004
Contacts and ownership
EEA Management Plan
2008 2.3.1
(note: EEA internal system)
Permalinks
Permalink to this version

Permalink to latest version
For references, please go to www.eea.europa.eu/soer or scan the QR code.
This briefing is part of the EEA's report The European Environment - State and Outlook 2015. The EEA is an official agency of the EU, tasked with providing information on Europe's environment.
PDF generated on 02 May 2016, 01:25 AM