Agriculture: area under management practices potentially supporting biodiversity (SEBI 020) - Assessment published May 2010
Indicator Assessment
Created 17 Sep 2009
Published 21 May 2010
Last modified 08 Oct 2014, 05:46 PM
Note: new version is available!
Generic metadata
Topics
:

Biodiversity
(Primary topic)
Tags:
DPSIR
: State
Typology
: Policy-effectiveness indicator (Type D)
Dynamic
Temporal coverage:
2000, 2003, 2005, 2007-2008
Contents
Key policy question:
To what extent is European agriculture geared towards the prevention of biodiversity loss?
Key messages
Europe has significant areas of High Nature Value (HNV) farmland, which provide habitats for a wide range of species. Such areas are under threat, however, from intensification of farming and land abandonment. The mere presence of HNV farmland is of course not proof of sustainable management but promoting conservation and sustainable farming practices in these areas is crucial for biodiversity. Map 1 presents the first estimate of HNV farmland distribution and can therefore not yet be analysed for trends.
Agri-environment schemes have been used widely to make agriculture more sustainable. Not all
agri-environment measures are explicitly targeted on biodiversity, however, and further analysis is required to determine their effectiveness.
Organic farming has developed rapidly since the beginning of the 1990s and continues to do
so. While it is difficult to assess its impact on biodiversity it is assumed that this type of farming reduces stress on ecosystems and provides a wider range of niches for farmland species.
High Nature Value Farmland in Europe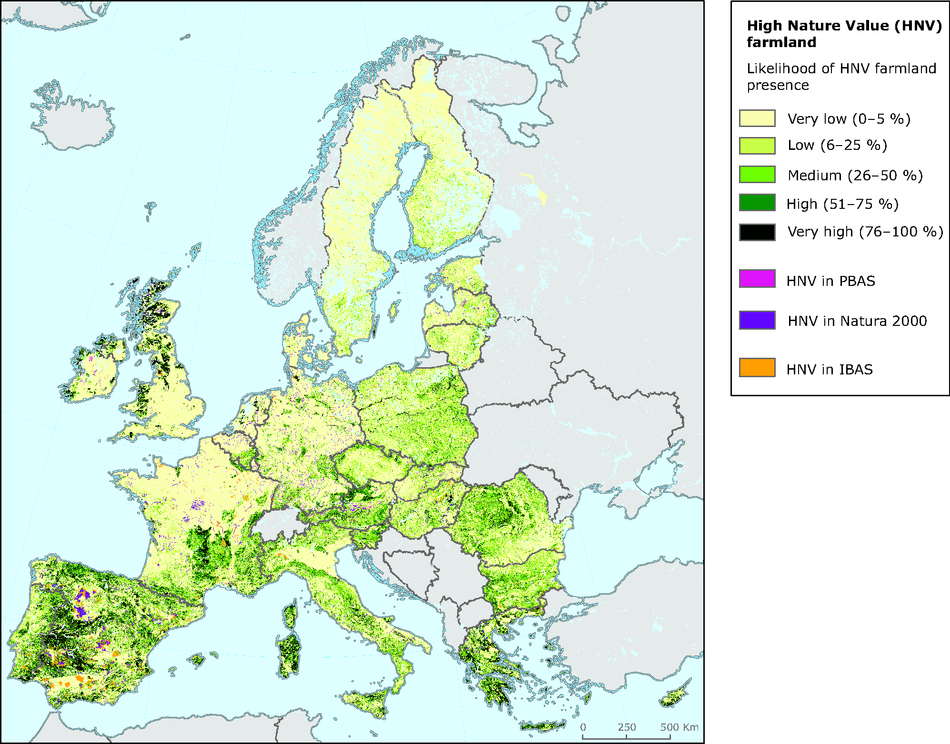 Note: Based on Corine Land Cover (CLC), hence with same geographical coverage as CLC
Downloads and more info
Key assessment
Countries in Europe contain HNV farmland to varying degrees. The identification and conservation of HNV farmland was given high priority in the Kiev Resolution on Biodiversity
(UNECE, 2003).
South-east Europe and EECCA countries (eastern Europe, Caucasus and central Asia) are not covered in the data sets used to make Map 1 and, hence, are not represented. The share of HNV farmland in these regions is probably higher than in western and central Europe but current data do not allow a precise estimate. Finally, while the map indicates the location of HNV, no indicator is yet available to help assess countries' efforts in managing these
areas for biodiversity.
The European Commission has contracted a separate study on an HNV indicator for evaluation including a guidance document to the Member States on the application of the HNV impact indicator (IEEP, 2007).
Agri-environment schemes are the most relevant policy tool in the EU for conserving biodiversity on farmlands. They support agricultural production methods that help protect and improve the environment, in particular the landscape and its features, natural resources, the soil and genetic diversity. Some agri-environment measures are aimed directly at biodiversity protection.
In the EU, the share of agricultural land under agri-environment schemes varies from less than 5 % in Greece and the Netherlands to more than 80 % in Austria, Finland, Luxembourg and Sweden.
The new EU guidelines for rural development explicitly encourage the targeting of agri-environment schemes (and other rural development measures) on EU environmental priorities, including biodiversity in general and High Nature Value farming systems in particular.
However, the success of such targeting at national and regional level cannot be assessed at this stage and better information on the effectiveness of the agri-environment measures is still desirable. As information on HNV farmland and forestry has become a compulsory element of rural development evaluations, relevant data should be available in due course.
Organic farming can enhance biodiversity by reducing the use of inputs, rotation practices or livestock extensification. For this indicator, farming is only considered to be organic at the EU level if it complies with Council Regulation (EEC) No. 2092/91 and its amendments.
Organic farming has developed rapidly since the beginning of the 1990s so that by 2004, 6.5 million ha in Europe were managed organically (by around 167 000 farms). Of these, more than 5.8 million ha were in the EU - 3.4 % of the utilised agricultural area. In the SEE and EECCA regions organic farming covers less than 0.5 % of the agricultural land. It needs to be noted, however, that 'conventional' farming is not the same in all sub-regions of Europe covered by this report. For example, non-organic areas outside western Europe may still be much less intensively farmed than non-organic areas in the west. Another point for consideration is that organic farming tends to be less intensive and therefore may require a larger area of land to produce the same amount of food as intensive conventional agriculture, which may put pressure on natural habitats.
NOTES
The three main categories of HNV farmland are (adapted from Andersen et al., 2003):

Type 1: farmland with a high proportion of seminatural vegetation;
Type 2: farmland with a mosaic of low intensity agriculture and natural and structural elements, such as field margins, hedgerows, stonewalls, patches of woodland or scrub, and small rivers;
Type 3: farmland supporting rare species or a high proportion of European or world populations.
REFERENCES
UNECE, 2003. United Nations Economic Commission for Europe - Kiev Resolution on Biodiversity (ECE/CEP/108). Adopted at the Fifth Ministerial Conference Environment for Europe.
IEEP, 2007. HNV Indicators for Evaluation. Final report for DG Agriculture. Available at: http://ec.europa.eu/agriculture/analysis/external/evaluation/ex_sum_en.pdf
Andersen, E.; Baldock, D.; Bennett, H.; Beaufoy, G.; Bignal, E.; Brouwer, F.;, Elbersen, B.; Eiden, G.; Godeschalk, F.; Jones, G.; McCracken, D.; Nieuwenhuizen, W., van Eupen, M., Hennekens, S. and Zervas, G., 2003. Developing a High Nature Value Farming area indicator. Internal report for the European Environment Agency.
Data sources
More information about this indicator
See this indicator specification for more details.
Dates
Frequency of updates
Updates are scheduled once per year in October-December (Q4) and every 6 years in October-December (Q4)
Permalinks
Permalink to this version

Permalink to latest version
For references, please go to www.eea.europa.eu/soer or scan the QR code.
This briefing is part of the EEA's report The European Environment - State and Outlook 2015. The EEA is an official agency of the EU, tasked with providing information on Europe's environment.
PDF generated on 05 May 2015, 03:27 AM