AGRI_F03: Gross nutrient balance - outlook from EEA (Outlook 020) - Assessment published Jun 2007
Indicator Assessment
—
expired
Created 08 Jan 2007
Published 08 Jun 2007
Last modified 12 Nov 2013, 09:03 AM
This content has been archived on
12 Nov 2013
, reason:
Content not regularly updated
Generic metadata
Topics
:

Environmental scenarios
(Primary topic)

Agriculture
Tags:
DPSIR
: Pressure
Typology
: Descriptive indicator (Type A - What is happening to the environment and to humans?)
Contents
Key policy question:
What are the prospects to reduce environmental impact of agriculture?
Key messages
Nutrient surpluses are expected to be moderately reduced in 2020. Best practices for fertilizer handling could significantly reduce the environmental pressures which are associated with nutrient balances.
Projections of changes in gross nutrient balance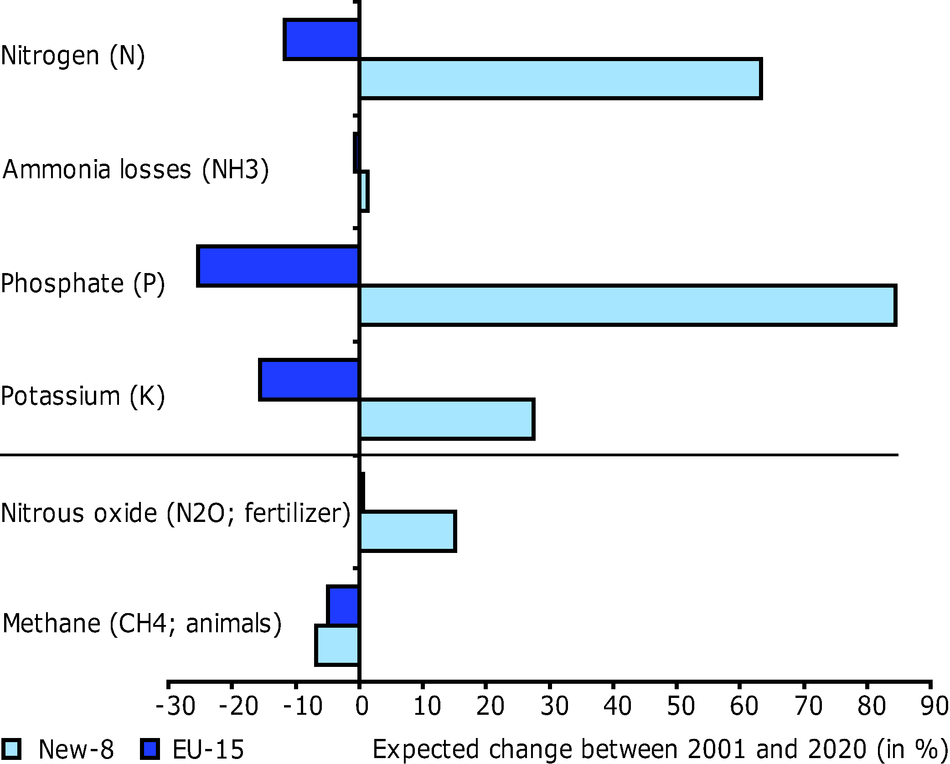 Note: N/A
Data source:
European environment outlook, EEA Report No 4/2005
Downloads and more info
Key assessment
Baseline scenario
The following developments are expected for nutrient balance:
Overall, nutrient surpluses are expected to be moderately reduced in 2020 (by 6%, 8% and 12% for N, P, K respectively).

There are striking differences between the EU-15 and the New-8 projections.

Nutrient surpluses in the New-8 are expected to increase by 63% for nitrogen (N), 84% for phosphate (P) and 27% for potassium (K) as a result of the expected sharp increase in the use of mineral fertilizers.

In the EU-15, surpluses are expected to decrease (by 12% for N, 25% for P and 16% for K) because of a stable use of fertilizers and an increase in export in harvested material.

The share of the New-8 in N, P, K surpluses in 2020 is expected to be 14%, 14% and 11% respectively (these are 8%, 6% and 7% in the base year, 2000).
The main reasons of the expectations are provided above and include dependence amount of fertilizers and market's conditions with nutrient balances.
Alternative scenarios:
The liberalization of animal product markets leads to a limited change in the environmental indicator. The N, P, K surpluses decrease by 4% to 5%, smaller than might be expected (Liberalization of animal product markets scenario)
In 2020, the N,P,K surpluses are expected to be reduced compared with the baseline scenario by 25%, 70%, and 57% respectively. (Best practice scenario for fertiliser handling)
Data sources
More information about this indicator
See this indicator specification for more details.
Contacts and ownership
EEA Contact Info
Anita Pirc Velkavrh
Ownership
EEA Management Plan
2010
(note: EEA internal system)
Dates
Permalinks
Permalink to this version

Permalink to latest version
For references, please go to www.eea.europa.eu/soer or scan the QR code.
This briefing is part of the EEA's report The European Environment - State and Outlook 2015. The EEA is an official agency of the EU, tasked with providing information on Europe's environment.
PDF generated on 05 May 2015, 09:44 AM