Yearly allowance allocations for the period 2005 to 2007 compared to CO2 emissions of the trading sector in 2003, and relative emission change in 2005-2007 compared to 2003
Figure
Created 12 Nov 2009
Published 12 Nov 2009
Last modified 29 Nov 2012, 11:38 AM
The CO2 emissions of the trading sector were calculated on the assumption that the share of the trading sector in the Member States total CO2 emissions will not change until 2007
/data-and-maps/figures/ga-downloads/386D4311-CC25-4F33-B494-92D87EEB2457/yearly-allowance-allocations-for-the-period-2005-to-2007-compared-to-co2-emissions-of-the-trading-sector-in-2003-and-relative-emission-change-in-2005-2007-compared-to-2003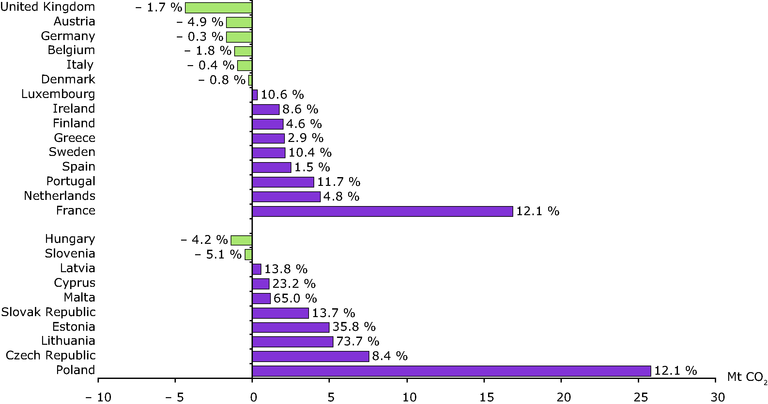 Download
European data
Metadata
Additional information
A negative figure (green) indicates that the allocation is lower than the emissions of the trading sector in 2003 whereas a positive value (purple) indicates that a Member State has allocated more allowances than the trading sector has emitted in 2003.
For references, please go to www.eea.europa.eu/soer or scan the QR code.
This briefing is part of the EEA's report The European Environment - State and Outlook 2015. The EEA is an official agency of the EU, tasked with providing information on Europe's environment.
PDF generated on 21 Oct 2016, 07:19 PM