Trend in passenger transport demand and GDP
Figure
Created 12 Nov 2009
Published 12 Nov 2009
Last modified 29 Nov 2012, 11:34 AM
Note: new version is available!
If the decoupling indicator (vertical bars) is above 100 transport demand is outpacing GDP growth (i.e
/data-and-maps/figures/ga-downloads/9A93D32E-68EA-4D55-BA4C-EC55E5C3D9C9/trend-in-passenger-transport-demand-and-gdp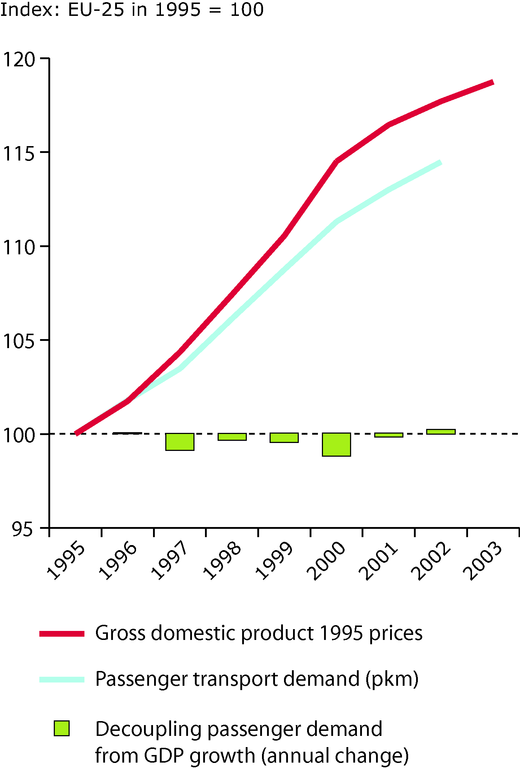 Download
European data
Metadata
Additional information
positive bar = no decoupling) whereas a value below 100 is means transport demand growing less rapidly than GDP (i.e. negative bar = decoupling). The EU-25 index for passenger transport demand does not include Malta, Cyprus, Estonia, Latvia, and Lithuania because of lack of a complete time series in these countries. Decoupling for passenger demand also excludes the GDP of these 5 countries, together representing about 0.3%-0.4% of EU-25 GDP. See also indicator definition.
For references, please go to www.eea.europa.eu/soer or scan the QR code.
This briefing is part of the EEA's report The European Environment - State and Outlook 2015. The EEA is an official agency of the EU, tasked with providing information on Europe's environment.
PDF generated on 27 Oct 2016, 11:11 AM