Share of biofuels in transport fuels (%)
Figure
Created 12 Nov 2009
Published 12 Nov 2009
Last modified 29 Nov 2012, 11:37 AM
The Biofuels Directive aims at promoting the use of biofuels for transport to replace diesel or petrol
/data-and-maps/figures/ga-downloads/9C96BBD6-8BA1-4D63-9D7D-D9B3B45AE8FB/share-of-biofuels-in-transport-fuels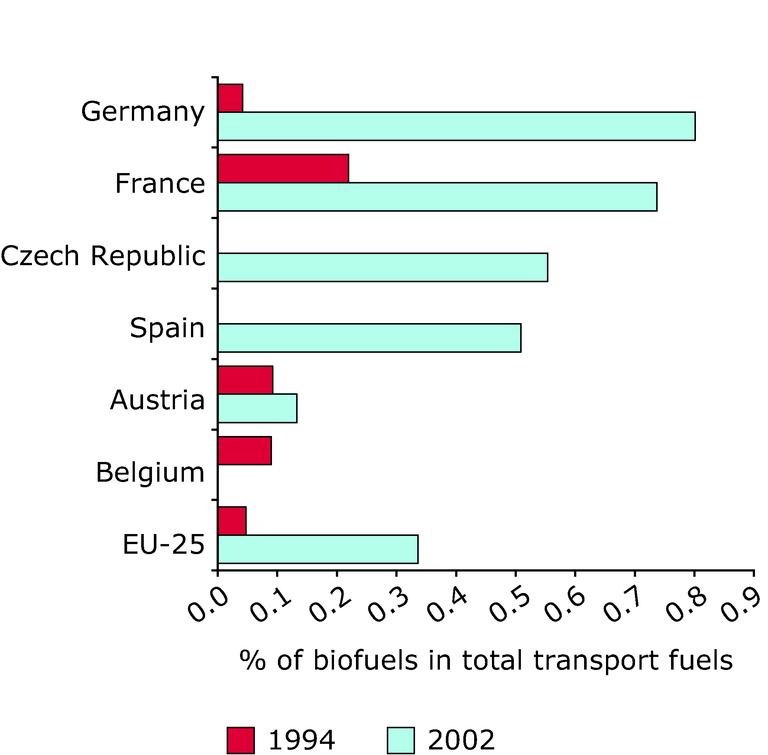 Download
European data
Metadata
Additional information
The primary objective is to increase the consumption of biofuels, as opposed to its production, which may or not be exported to other countries. The share of biofuels should reach 2% by 2005 and 5.75% by 2010. The denominator includes all EU-25 countries with consumption of diesel and gasoline. The numerator refers to the final energy consumption of biofuels in the transport sector. By 2002, only few EU countries had consumption of biofuels or were reporting consumption of biofuels to Eurostat. A progressively larger number of EU countries are expected to report biofuels consumption to Eurostat when data becomes available for 2003, year of entry into force of the Directive.
For references, please go to www.eea.europa.eu/soer or scan the QR code.
This briefing is part of the EEA's report The European Environment - State and Outlook 2015. The EEA is an official agency of the EU, tasked with providing information on Europe's environment.
PDF generated on 23 Oct 2016, 10:56 AM