Projections of total emissions of CO Light-duty Vehicles, Freight Trucks, Buses, and 2-3 wheelers (thousand tonnes per year)
Figure
Created 10 Jul 2007
Published 10 Jul 2007
Last modified 28 Jun 2016, 06:01 PM
!
/data-and-maps/figures/ga-downloads/3B8EBD6D-596D-4E69-9880-C730D5A0F824/projections-of-total-emissions-of-co-light-duty-vehicles-freight-trucks-buses-and-2-3-wheelers-thousand-tonnes-per-year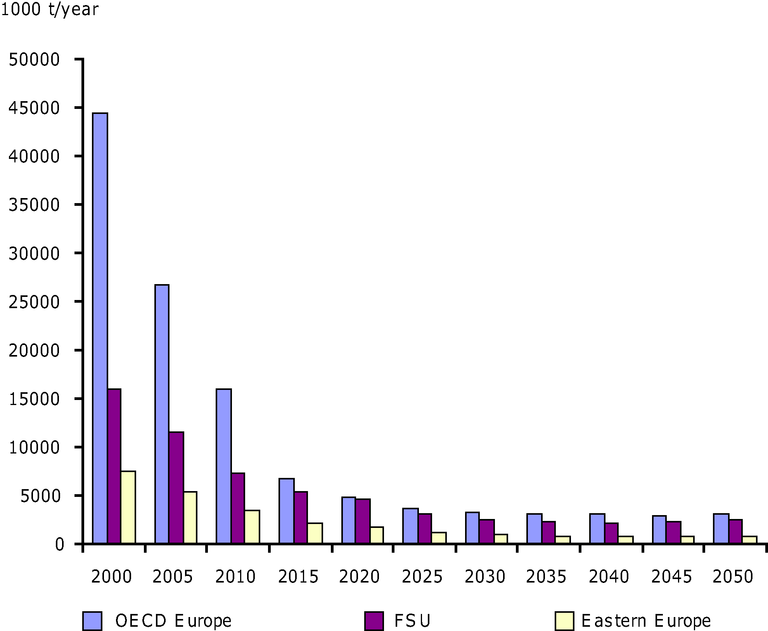 Download
European data
Metadata
Additional information
Temperary image to use for the Outlook Indicator Management System !. Geographical coverage: no individual countries are presented. The calculations are done on the regional basis. Regions are defined as following Eastern Europe: Albania, Bosnia-Herzegovina, Bulgaria, Croatia, Macedonia, Poland, Romania, Slovakia, Slovenia, Yugoslavia. OECDEurope: Austria, Belgium, the Czech Republic, Denmark, Finland, Germany, Greece, Hungary, Iceland, Italy, Luxembourg, the Netherlands, Norway, Poland, Portugal, the Slovak republic, Spain, Sweden, Switzerland, Turkey and the United Kingdom FUS Former Soviet Union: Armenia, Azerbaijan, Belarus, Estonia, Georgia, Kazakhstan, Kyrgyzstan, Latvia, Lithuania, Moldova, Russia, East of Ural, Tajikistan, Turkmenistan, Ukraine, Uzbekistan
For references, please go to www.eea.europa.eu/soer or scan the QR code.
This briefing is part of the EEA's report The European Environment - State and Outlook 2015. The EEA is an official agency of the EU, tasked with providing information on Europe's environment.
PDF generated on 27 Oct 2016, 09:43 AM