Gaps between EU Kyoto and burden-sharing targets and projections for 2010 for the EU-15
Figure
Created 12 Nov 2009
Published 12 Nov 2009
Last modified 29 Nov 2012, 11:39 AM
Get us to Kyoto on time Emissions from the EU-15 were 3 % below 'base year' levels in 2006, according to the latest EEA data
/data-and-maps/figures/ga-downloads/F093EC14-2640-4E36-9725-BB6F61F0012D/gaps-between-eu-kyoto-and-burden-sharing-targets-and-projections-for-2010-for-the-eu-15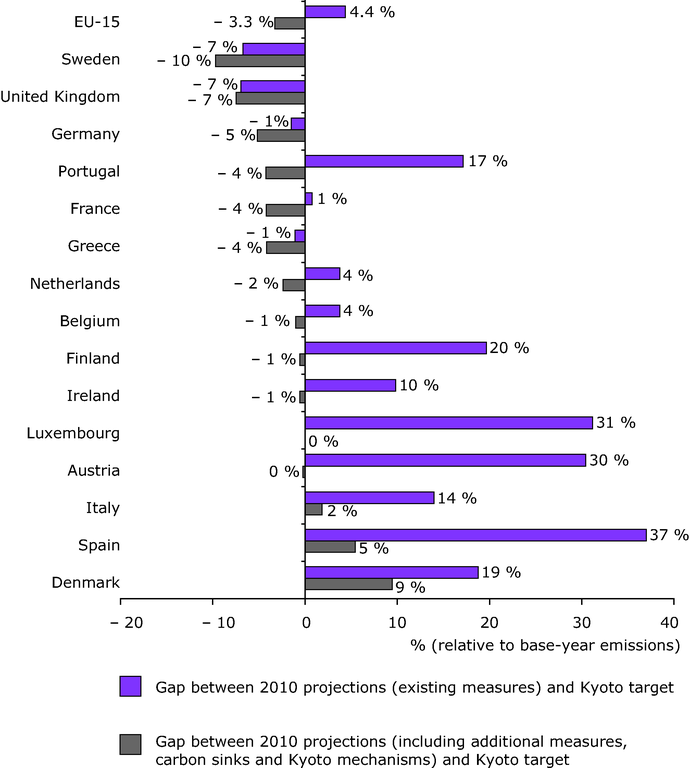 Download
Metadata
Additional information
Countries that have signed up to Kyoto must make substantial emissions reductions at home. However, having satisfied this condition, they can also use Kyoto Mechanisms, such as the 'Clean Development Mechanism' (CDM) and 'Joint Implementation', two schemes that allow a country to offset a share of its own emissions by investing in reduction efforts elsewhere. The EU 'Emissions Trading Scheme' (EU ETS) is another tool, which helps industries to cut their CO2 emissions in a cost-effective way. Limits have been set for all industrial sites that emit a lot of CO2. Sites that cut emissions below their 'allocation' can sell the remainder as emission allowances to other companies who have not made sufficient reductions. In this way a carbon market has developed. The EU ETS is currently estimated to reduce EU-15 emissions by more than 3 % (4). Following a proposal by the European Commission, the EU ETS could be expanded to include additional sectors, such as aviation, petrochemicals, ammonia and the aluminium sector, as well new gases, so that approximately half of all EU emissions would be covered (5). During the Kyoto period (20082012) developed countries can also trade emission allowances between themselves in order to meet their national targets. (3) Looking ahead to 2020, the report gives a long range estimate of the emissions situation in Europe. This is particularly relevant in the context of the 'Climate and Energy package' being proposed by the European Commission, which is proposing targets for 2020.(4) Compared to the Kyoto 'base year'.(5) Currently emissions from international aviation and shipping are not covered under the Kyoto Protocol or by EU law.(6) The full effect of the EU Emission Trading Scheme is not reflected in all Member states's projections.
For references, please go to www.eea.europa.eu/soer or scan the QR code.
This briefing is part of the EEA's report The European Environment - State and Outlook 2015. The EEA is an official agency of the EU, tasked with providing information on Europe's environment.
PDF generated on 24 Oct 2016, 11:11 AM