Exceedance of air quality limit values of SO2 in urban areas (EEA member countries), 1996-2002
Figure
Created 12 Nov 2009
Published 12 Nov 2009
Last modified 29 Nov 2012, 11:38 AM
1: The limit value is 125 microgrammeg SO2/m3 as a daily mean, not to be exceeded more than three days in a year
/data-and-maps/figures/ga-downloads/3CDFB3CE-6F05-4B41-81BB-D4BE256F7F45/exceedance-of-air-quality-limit-values-of-so2-in-urban-areas-eea-member-countries-1996-2002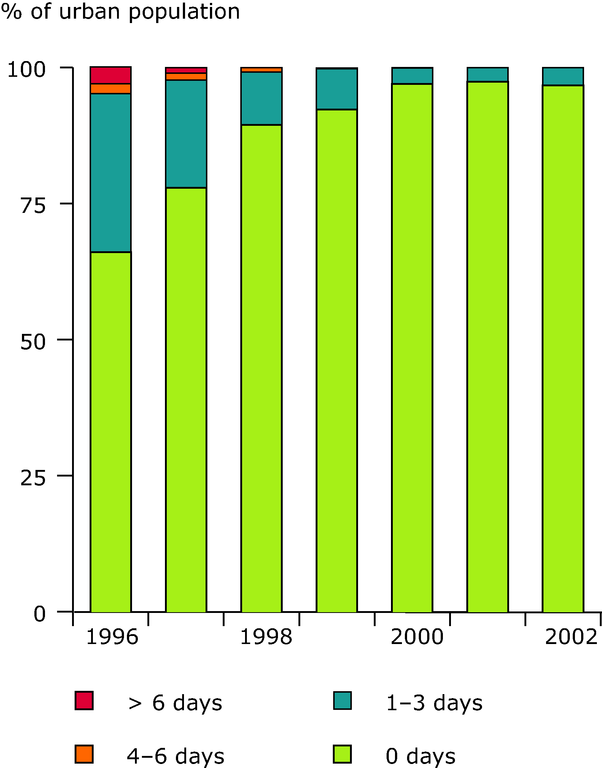 Download
European data
Metadata
Additional information
2: Over the years 1990 - 2002, the total population for which exposure estimates are made, increases from 67 to 136 million people due to an increasing number of monitoring station reporting air quality data. Year-to-year variations in exposure classes are partly caused by the changes in spatial coverage. The number of available data series varies considerably from year to year and is for the first part of the 90s insufficient. Availability of data before 1990 is too low to include in the indicator; data for non-EU countries is largely missing before 1995.
For references, please go to www.eea.europa.eu/soer or scan the QR code.
This briefing is part of the EEA's report The European Environment - State and Outlook 2015. The EEA is an official agency of the EU, tasked with providing information on Europe's environment.
PDF generated on 28 Oct 2016, 01:56 AM