Changes in wastewater treatment in regions of Europe between 1990 and 2009
Figure
expired
Created 16 Mar 2012
Published 07 Jun 2012
Last modified 22 Feb 2017
Note: new version is available!
This content has been archived on
22 Feb 2017
, reason:
Other (This chart is available as Daviz)
This figure illustrates the percentage population per European region connected to a waste water collection and treatment systems (UWWTPs) over the period 1990 to 2009. In addition, a breakdown by treatment type is portrayed.
/data-and-maps/figures/ga-downloads/05F8CF37-EFA5-4228-B8B5-364EDBA312C4/changes-in-wastewater-treatment-in-regions-of-europe-between-1990-and-1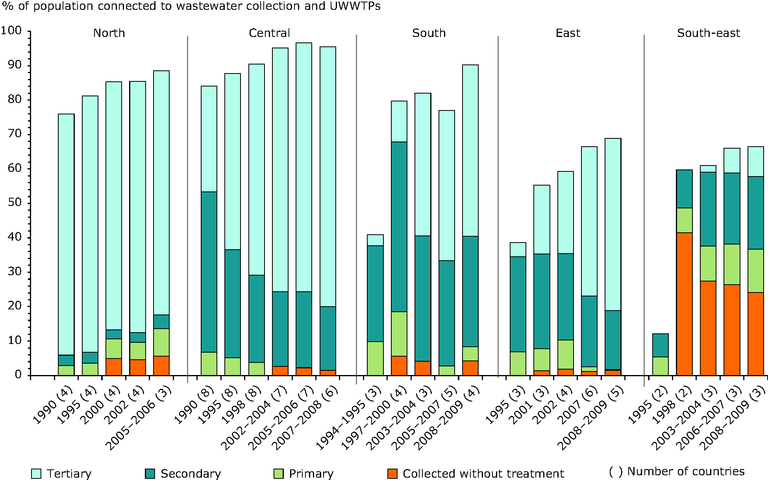 Download
European data
Metadata
Additional information
The numbers of countries are given in parentheses. Regional percentages have been weighted by country population. More information on methodology.
North: Norway, Sweden, Finland and Iceland
Central : Austria, Denmark, England & Wales, Scotland, the Netherlands, Germany, Switzerland, Luxembourg and Ireland
Southern: Cyprus, Greece, France, Malta, Spain and Portugal
East: Czech Republic, Estonia, Hungary , Latvia, Lithuania, Poland, Slovenia, Slovakia
South Eastern: Bulgaria , Romania and Turkey