Changes in European fishing fleet capacity: 1989-2003
Figure
Created 12 Nov 2009
Published 12 Nov 2009
Last modified 29 Nov 2012, 11:36 AM
Note: new version is available!
Power changes refer to 1989-2003 for EU 15 and 1997 -2002 for EFTA
/data-and-maps/figures/ga-downloads/0B9C63C8-7A0B-4B9E-8452-9A2630CFCD8F/changes-in-european-fishing-fleet-capacity-1989-2003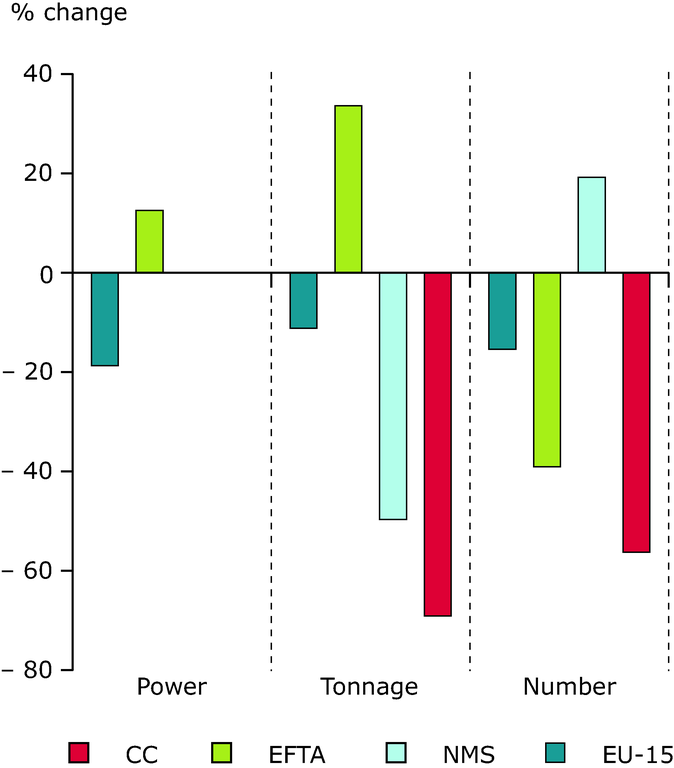 Download
European data
Metadata
Additional information
Tonnage changes refer to 1989-2003 for EU and EFTA; 1992-1995 for EU-10 and AC countries. Number changes refer to 1989-2002 for EU and EFTA; 1992- 2001 for EU-10; and 1992-19 for AC countries. Legend:Countries have been grouped into the following categories: EU-15 (Belgium, Denmark, Germany, Greece, Spain, France, Ireland, Italy, Luxembourg, Netherlands, Austria, Portugal, Findland, Sweden,United Kingdom),EFTA (Iceland and Norway), EU-10 (new member states: Estonia, Cyprus, Lithuania, Latvia, Malta, Poland, and Slovenia), AC (accession countries: Bulgaria and Romania)
For references, please go to www.eea.europa.eu/soer or scan the QR code.
This briefing is part of the EEA's report The European Environment - State and Outlook 2015. The EEA is an official agency of the EU, tasked with providing information on Europe's environment.
PDF generated on 25 Oct 2016, 09:24 PM