Change in summer chlorophyll-a concentrations at coastal stations of the Baltic, Mediterranean (Italian coastal waters only) and North Seas (% of stations, 1985-2004/2005)
Figure
Created 12 Nov 2009
Published 12 Nov 2009
Last modified 29 Nov 2012, 11:36 AM
This is part of the EEA core set indicator 23 (http://themes.eea.europa.eu/Specific_media/water/indicators)
/data-and-maps/figures/ga-downloads/3E5964D6-0775-4F41-BDD4-9C6E3FA84D34/change-in-summer-chlorophyll-a-concentrations-at-coastal-stations-of-the-baltic-mediterranean-italian-coastal-waters-only-and-north-seas-of-stations-1985-2004-2005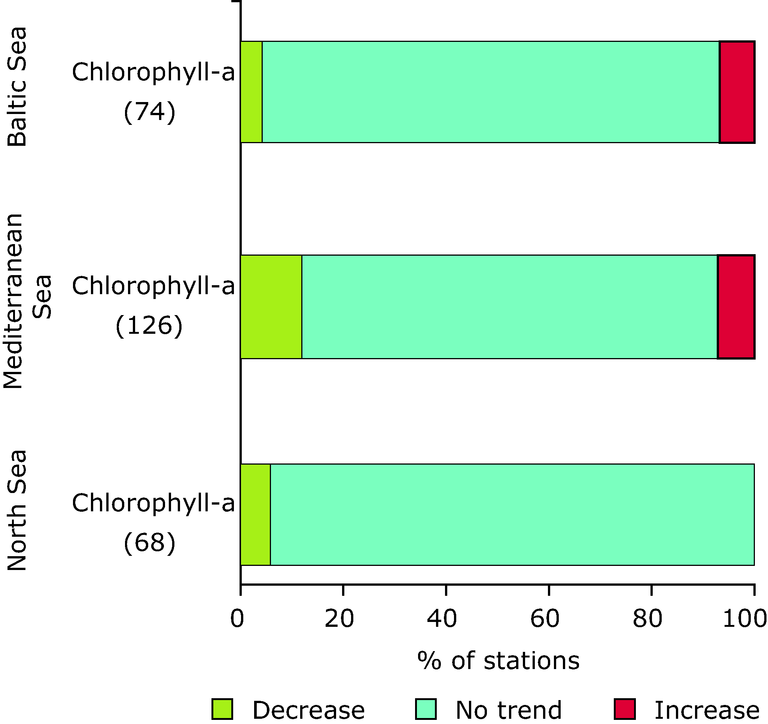 Download
Metadata
Additional information
''Monitoring stations'' refer to those reporting to the EEA by its member countries from the seas shown to the left. Other seas not included as riparian countries are either not EEA member countries or, if they are, they did not report to the EEA over 2004-2005. Only coastal data are presented as no trends were found at the open water stations in the Baltic (27 stations) and North (56 stations) Seas. For a more detailed map presentation of the data see: http://themes.eea.europa.eu/IMS/IMS/ISpecs/ISpecification20041007132031/IAssessment1116504836843/view_content.
For references, please go to www.eea.europa.eu/soer or scan the QR code.
This briefing is part of the EEA's report The European Environment - State and Outlook 2015. The EEA is an official agency of the EU, tasked with providing information on Europe's environment.
PDF generated on 28 Oct 2016, 05:20 PM