Životní prostředí v Evropě - Stav a výhledy 2005
Publikace
Vytvořen 29.11.2005
Publikováno 29.11.2005
Poznámka: k dispozici jsou nové verze!
State of the environment report No 1/2005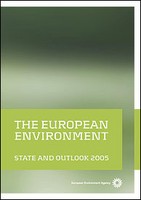 Vydáno
EEA (European Environment Agency)
OPOCE (Office for Official Publications of the European Communities)
Publikováno: 29.11.2005
Obsah
Akce dokumentů
Sdílet s ostatními
For references, please go to www.eea.europa.eu/soer or scan the QR code.
This briefing is part of the EEA's report The European Environment - State and Outlook 2015. The EEA is an official agency of the EU, tasked with providing information on Europe's environment.
PDF generated on Neděle 14.02.2016 20:27