Europas miljö — tillstånd och utblick 2010: en syntes
Publikation
Skapad 2010-10-19
Publicerad 2010-11-23
Obs: nya versioner finns tillgängliga!
State of the environment report No 1/2010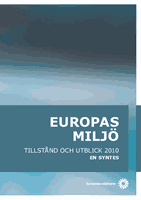 Miljöpolitiken i Europeiska unionen och i grannländerna har åstadkommit väsentliga förbättringar av tillståndet i miljön. Men stora miljömässiga utmaningar kvarstår, utmaningar som kommer att få betydande konsekvenser för Europa om inget görs.
Innehåll
For references, please go to www.eea.europa.eu/soer or scan the QR code.
This briefing is part of the EEA's report The European Environment - State and Outlook 2015. The EEA is an official agency of the EU, tasked with providing information on Europe's environment.
PDF generated on 2016-10-25 01:31